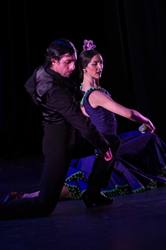 "What makes this film a 'must-watch' is that it's not possible for someone to see Yjastros like this in the theatre or anywhere else. It combines multiple casts performing pieces." - Christopher Michael Roybal
ALBUQUERQUE, N.M. (PRWEB) November 05, 2020
The COVID-19 pandemic has decimated opportunities for Yjastros artists, and artists around the world. The company has been unable to rehease together or stage normal performances. Typically in November, Yjastros fills their home theatre at the National Hispanic Cultural Center in Albuquerque with the energy of flamenco performance. This year, Artistic Director Joaquin Encinias and Yjastros members longed to return to the stage, but knew something entirely different was in order. Encinias teamed up with Christopher Michael Roybal of Incredible Films to create "Inside Yjastros." This special film blends the power of performance by Yjastros with behind-the-scenes documentary footage from the company's 20th year. "Inside Yjastros" combines some of the company's most memorable pieces from the last four years with intimate interviews to create a cinematic experience of Yjastros like never before.
Filmmaker Roybal says, "What makes this film a 'must-watch' is that it's not possible for someone to see Yjastros like this in the theatre or anywhere else. It combines multiple casts performing pieces. It's really a testament to the training and expertise of the company that multiple casts could be edited together so seamlessly. Yjastros is a multifaceted world, and the film expresses that."
This special season culminates not only from necessity, but also from a shared local commitment to the arts and the creative economy. The artistry of Yjastros finds a strong creative collaborator in local filmmaker Roybal of Incredible Films, who was instrumental in this summer's virtual performance of Yjastros during Festival Flamenco Alburquerque, an annual event celebrating the art of flamenco. Season underwriter and local businessman, Anthony D. Trujillo, has been instrumental in supporting the company. "Inside Yjastros" is the result of many coming together to tell the story of the unique company that is Yjastros, and should not be missed.
Streaming information:
Inside Yjastros
Premieres Friday, Nov. 13, at 8 p.m.
Viewing passes on sale now: $20, or $50 with donation to the Artist Relief Fund in support of Yjastros artists who have lost work and income due to the pandemic.
Passes provide 48 hours of online viewing access.
About the National Institute of Flamenco
The mission of the National Institute of Flamenco is to preserve and promote flamenco's artistry, history, and culture by presenting the finest flamenco in the world and by educating the American family in this art form while emphasizing the positive influence of art on family and community. Learn more at NIFNM.org.