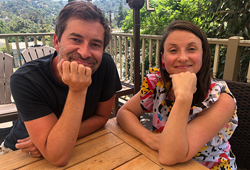 Seed&Spark is on the road year-round meeting with filmmakers in every nook and cranny of the U.S., doing the same hard work of empowering independent creators. Working together, we're now able to help people we'd likely never encounter on our own," said Mark Duplass.
LOS ANGELES (PRWEB) September 03, 2019
Seed&Spark, a crowdfunding and career-building platform for filmmakers, and writer/director/producer Mark Duplass today announced an expansion of their partnership to empower independent filmmakers outside of the traditional Hollywood ecosystem with the Creative Sustainability Summit. The series of free one-day conferences kicks off September 29 in Milwaukee at John Ridley's Nō Studios with both Duplass and Ridley in attendance. Subsequent Summits with Duplass will take place quarterly through 2019 and 2020 (additional cities have yet to be announced).
"I'm fortunate to be in a position where I'm able to unofficially mentor filmmakers, helping them dial in what's working and what's not on a project. Some of those have launched big careers, but it's limited to my immediate community. Seed&Spark is on the road year-round meeting with filmmakers in every nook and cranny of the U.S., doing the same hard work of empowering independent creators. Working together, we're now able to help people we'd likely never encounter on our own," Duplass said.
As part of his participation in each quarter's Summit, Duplass will help several local filmmakers crack their project in a live interactive Hometown Heroes panel. Filmmakers will be prompted to submit their project for consideration when they register for the free event, and those selected will be announced live at the beginning of the panel before joining Duplass on stage to work through their project in real-time. Filmmakers of all genres, backgrounds and experience levels are encouraged to submit for the Milwaukee panel by registering before Sept. 25.
The Milwaukee Creative Sustainability Summit will also feature a conversation on screenwriting between the Academy Award-winning writer and Duplass as well as workshops on film funding and distribution led by Seed&Spark.
"I chose Milwaukee as the site for No Studios not only because it's my hometown but because of the thriving creative community here and the desire to provide a space in the city for the creation and presentation of art," said Ridley. "When Seed&Spark approached us with the idea to launch their Creative Sustainability Summit series here, we jumped at the opportunity, as our mission is so well aligned with their efforts to encourage artists to find meaningful work and support in their own communities. And of course, it's going to be terrific to introduce Mark Duplass to all the talented creators in Milwaukee."
In addition to the Duplass partnership, Seed&Spark's education footprint is expanding in the US and Canada with the addition of five new instructors to meet the demands for workshops for filmmakers and storytellers across all media. In 2018, more than 4,500 creators attended 140 Seed&Spark events. Attendees of those events who went on to launch projects on Seed&Spark raised close to $4M on the platform to make their movies and shows. The organization has already hosted more than 70 events in 2019, with dozens more scheduled throughout the fall and winter.
"Providing creators the information, tools and inspiration to build sustainable careers has been part of our mission since the very beginning, and we couldn't have a better partner to do that with than Mark Duplass," said Emily Best, Seed&Spark founder and CEO. "The Creative Sustainability Summit ties together all the pieces from funding and audience building through production and distribution to give creators anywhere, at any stage of their careers, the ability to leverage the incredible power and talent of their local creative communities. You don't have to move to LA or New York to have a sustainable creative career — and the old Hollywood business models probably won't work for you. But there is tremendous opportunity in doing things differently, and Mark is one of the people who has blazed a trail."
Seed&Spark and Duplass Brothers Productions collaborated in 2017 and 2018 on the Hometown Heroes Crowdfunding Rallies, which raised more than $1.4M total for 75 feature films shooting around the country. Duplass Brothers Productions became executive producers on three of those — Wilmington-based Drought, Indiana's The MisEducation of Bindu and Oregon-based Thunderbolt in Mine Eye.
Registration for the Milwaukee Summit is now open. Tickets and more details can be found at http://ow.ly/1cBS50vTPaw. The event is sponsored by Shutterstock and Final Draft.
Please follow @seedandspark on social media for future dates, locations and updates.
# # #
About Seed&Spark
Seed&Spark connects people through stories that matter. Since 2012, their platform has helped thousands of creators bring stories to life and to audiences via story-centric crowdfunding, on-platform streaming, live community events and workplace programs that cultivate a culture of diversity and inclusion.
About NO STUDIOS
Founded by Oscar-winning filmmaker and Milwaukee native John Ridley (12 Years a Slave, American Crime) and business partner Chris Abele, No Studios is a hub for the creative arts in Milwaukee, designed to provide a social space dedicated to the creation, curation and presentation of art. No Studios offers long-term and short-term office space for local individuals, organizations and companies in creative fields, and is home to a curated group of tenants including Milwaukee Film, Milwaukee Filmmaker Alliance, 371 Productions, Custom Reality Services, UW-Milwaukee Department of Film, Marquette University, Independent, Media Circus International, Gener8tor, Imagine MKE and Duncan Entertainment. As a for-profit venture that aims to become a sustainable model for bringing arts to Milwaukee, No Studios offers a unique three-tier membership model providing accessibility to a wide variety of audiences. No Studios presents year-round programming including film screenings and discussions, dance and music performances, readings, and photographic and fine art exhibitions. The building is located in the newly redeveloped Pabst Brewery Complex at 1037 West McKinley Avenue. Learn more at http://www.nostudios.com.