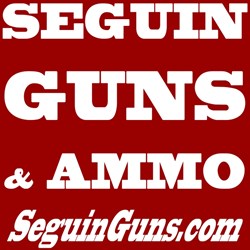 We can't wait to visit the new gun shop.
Seguin, Texas (PRWEB) July 25, 2013
High demand and low supply forced Seguin Guns to delay their opening a few months. However, it was recently announced that they will begin processing FFL gun transfers, as well as buying and selling new and used guns on August 1, 2013.
The gun shop, located at 3552 Alternate 90 in Seguin, Texas, is currently in the same building as its parent company, Seguin Gold Silver and Coins. After renovations are complete, the shop will move right next door into a 1,400-square-foot facility. The new space will accommodate much more supply, counter and display space, and of course, a lot more customers.
The Federal Firearm Licensed (FFL) Dealer has already had several inquiries as to when it will be opening. It's obvious that residents of Seguin, New Braunfels, Gonzales, Luling, McQueeney and the surrounding South Texas area have been eagerly anticipating the opening of Seguin's newest gun store. The closing of another area gun dealer has reduced the choices that people have of where to purchase their firearms, ammunition, accessories and hardware.
Seguin Guns will start buying used guns, including antique firearms. A limited supply of new firearms will also be available and they will process handgun transfers for a nominal fee. The FFL gun transfers are done when someone is buying a firearm from an individual or from an online seller. Also, if Seguin Guns does not have something in stock, they can place a special order on behalf of the customer.
The store will be conveniently open seven days a week and customers are welcome to make an appointment by calling 830-556-1966.
Seguin Guns is a division of Seguin Gold Silver and Coins open every day 7 a.m. to 11 p.m. They buy new and used handguns, gold, silver, platinum, jewelry and coins. They serve Seguin, New Braunfels, McQueeney, Gonzales, Luling, San Marcos, La Vernia, San Antonio, Austin and other Texas cities.
For more information, call (830) 556-1966 or go to SeguinGuns.com.