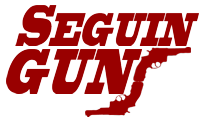 The difference between gun shops that pay lip service to customer care and one that really wants to serve their customers is results. Keep up the good work, I'll be back.
Seguin, Texas (PRWEB) August 27, 2013
After many months of anticipation, Seguin Guns & Ammo opened for business on August 1, 2013 with a great reception from the public. Much to the surprise of owner, Jorge Gurza, people actually started stopping by the day before, as soon as the sign was put up.
The response from the public has been overwhelmingly positive, and there has been more traffic than what was initially anticipated. Those who come in or call are excited to learn that Seguin has a new gun and ammo shop to choose from. Seguin Guns & Ammo buys and sells new and used guns and accessories. They also sell ammunition, do FFL (Federal Firearm License) transfers and special orders.
Seguin Guns & Ammo also provides something other gun buyers don't - 24 hour emergency service. If someone is in need of cash, anytime of the day or night, Seguin Guns & Ammo will pay cash for pre-owned firearms, accessories and unused ammo.
Special orders are done at no additional charge. If a customer wants something that's not currently in stock, the staff will take down the customer's information, what they're looking for, and then research the item(s). When the item(s) are found, the gun dealer will contact the customer and place the order. Their testimonials prove that Seguin Guns & Ammo goes the extra mile and gets results for their clients.
The gun dealer has already been very busy with filling those orders, helping walk-in customers, and answering phone and internet inquiries. There are very few gun stores in the Seguin area, so it is no wonder that the public response has been so great.
Currently, the gun store sharing space with Seguin Gold, Silver & Coins, the owner's other business. However, in the next few months, Seguin Guns & Ammo will be finishing out and moving to an adjacent 1440 s.f. building. Then they can bring customers much more selection and shopping space.
Seguin Guns is a division of Seguin Gold Silver and Coins open every day 7 AM to 11 PM. They buy new and used handguns, gold, silver, platinum, jewelry & coins. They serve Seguin, New Braunfels, McQueeney, Gonzales, Luling, San Marcos, La Vernia, San Antonio, Austin & other Texas cities.
For more information, call (830) 556-1966 or go to SeguinGuns.com .
###