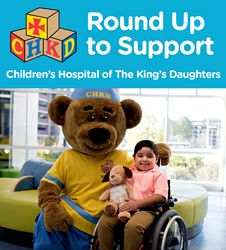 Children's Hospital of The King's Daughters is thrilled Harris Teeter and its shoppers will continue 'Rounding Up' for the kids
MATTHEWS, N.C. (PRWEB) January 24, 2019
Now through Feb. 26, 2019 select Harris Teeter locations will invite shoppers to Round Up their transaction at checkout to benefit Children's Hospital of The King's Daughters (CHKD).
CHKD is the leading children's hospital in southeastern Virginia and the only free-standing children's hospital in the state.
"Harris Teeter is proud to be known as a true community partner in all of the areas where we do business" said Danna Robinson, communication manager for Harris Teeter. "When we announced the purchase of the former Farm Fresh locations last year, we realized the long-standing partnership between the former retailer and CHKD, so it made sense for Harris Teeter to look into ways we could partner with the hospital. Our Round Up campaign offers our shoppers a convenient way to give back, and it allows Harris Teeter to honor the legacy of the neighborhood's former hometown grocery store."
Shoppers can donate at any Hampton Roads area Harris Teeter now through Feb. 26, 2019. There is no limit to what a shopper can donate, and 100% of donations will go directly to CHKD.
"Children's Hospital of The King's Daughters is thrilled Harris Teeter and its shoppers will continue 'Rounding Up' for the kids," said Kate Ryan, development officer for CHKD. "Their shoppers are our families, and we can't wait to see what we can do together to benefit children right here in Hampton Roads."
"We are continuously overwhelmed by the generosity of our valued associates and shoppers when we host fundraising campaigns," said Robinson. "We're hopeful this first venture with CHKD will be a success.