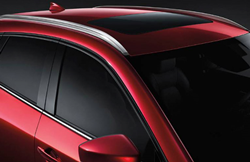 TRUSSVILLE, Ala. (PRWEB) March 18, 2019
Most SUV shoppers have already heard the fanfare surrounding the Mazda CX-5. Additionally, its many accolades certainly justify the hype. Regardless of all this commotion, the Mazda CX-5 is a true contender for the top of its class. As a matter of fact, now is an excellent time to explore this top-tier SUV.
Now through April 1, Serra Mazda is offering its loyal customers a fantastic leasing special for select models of the Mazda CX-5. More specifically, all 2019 Mazda CX-5 Sport entries will be eligible for this promotion. Furthermore, not all interested parties will be able to participate in this event, as it is only open to those who possess qualifying credit. For further details on this, the dealership's sales team can be reached by calling 204-419-5556.
Those who do qualify are sure to appreciate all of the standard features and technology systems in this base trim level of the 2019 Mazda CX-5. Included in this extensive lineup, one will find the following: a leather-wrapped steering wheel, Bluetooth®, LED headlights, push-button ignition, a seven-inch touchscreen interface, as well as blind-spot monitoring, rear cross-traffic alert and low-speed forward collision warning and mitigation systems.
Also standard for the 2019 Mazda CX-5 Sport, all types of drivers are sure to enjoy the base 2.5-liter four-cylinder engine that produces up to 187 horsepower and 186 pound-feet of torque.
To take the next steps towards leasing a 2019 Mazda CX-5 Sport, prospective customers are encouraged to visit the dealership online at http://www.serramazda.com. Once there, one can learn more about the SUV, view the dealership's available models and schedule a test drive. For those who would prefer a face-to-face interaction, Serra Mazda is located at 1503 Gadsden Highway.