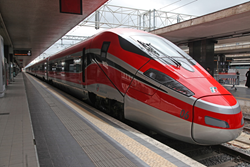 Many of our clients ask us what is the easiest way to move around Italy, and we usually suggest utilizing the extensive rail network which connects all major cities
Chicago, IL (PRWEB) October 13, 2016
The Italian railway system has in time become one of the most reliable transportation systems in Italy, covering the Bel Paese from North to South in a way that allows visitors to easily move from one city to the next, without having to deal with car rentals and airfares. Trenitalia has in fact won the prestigious Italia Travel Awards on May 31, 2016. Select Italy (https://selectitaly.com) - a boutique travel agency based in Chicago, specialized in travel to Italy - helps out all travelers who wish to purchase train tickets in "the boot," making the process fast and easy.
Travel by train in Italy is a common choice for tourists thanks to the comfort and convenience it offers. Moreover, there are different types of trains from which travelers can choose depending on their needs. Trenitalia offers high-speed trains – known as the Frecce (Frecciarossa, Frecciargento) – but also Frecciabianca, Intercity and regional trains, departing from all stations in Italy and covering almost the entire country. In addition to these services, Trenitalia launched this past summer Freccialink, a Freccia train + bus to connect medium-size cities like Siena, Perugia and Matera with bigger cities that are part of Italy's high-speed train network.
As the winner of the WTM (World Travel Market) 2015 World Travel Leaders Award, Trenitalia is the sensible solution for both visitors and locals to get from point A to point B, because it allows its passengers to sit back and enjoy the ride. The train stations are well equipped and organized to guarantee a smooth transfer, as well as give the opportunity to get some shopping done. Train stations in larger cities actually have an array of cafes and stores travelers can explore while waiting for the train.
"Many of our clients ask us what is the easiest way to move around Italy, and we usually suggest utilizing the extensive rail network which connects all major cities," says Justin Anderson, Manager of Operations & Client Services. "This way, they don't have to worry about driving, which can be incredibly difficult and confusing due to restricted access in historical city centers and limited parking. Driving can also take much longer than the train. Rail travel allows you to sit back and enjoy the view of the magnificent Italian landscape, rather than being stuck in a traffic jam on one of Italy's autostrada."
Select Italy's train booking interface is intuitive and simple to use. It is possible to reserve online Trenitalia tickets rapidly and safely upon entering number of travelers, date of travel, departure and arrival cities, and departure time. Tickets can be booked anytime, however, they cannot be confirmed more than 120 days before the departure date.
For train schedules, ticket prices and other information visit selectitaly.com. If customers want to book a ticket not listed on the website, they can send an e-mail with the requested route, date, time and passengers to info(at)selectitaly(dot)com and the staff will be able to accommodate any train need.
About Select Italy
Select Italy® is The Ultimate Source for Travel to Italy® and offers a wide array of superior Italian travel products and services, including customized itineraries, state-of-the-art tours and packages, wedding/honeymoon trips, unique culinary classes, a complete pre-departure ticketing service for museums and musical events, private guided services, yacht charters, transportation, hotel reservations, villa bookings and more. Through a vast network of suppliers and cultural contacts, anything and everything needed for optimum travel to Italy is possible with Select Italy. Based in Chicago with an office in New York and Shanghai and support staff in Italy, the company has expanded its offerings and travel services to the Balkans with the launch of Select Croatia®.