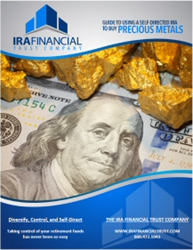 there has been a growing trend of fake news and advertising reports that are incorrectly stating the self-directed IRA investors and hold their IRA owned gold and IRS approved bullion in their home or in their personal possession
New York, NY (PRWEB) May 15, 2017
IRA Financial Trust Company, a custodian for self-directed IRA LLC and solo 401(k) plans announces the release of a free guide on using a self-directed IRA to purchase gold and other IRS approved precious metals. The free precious metals guide will help self-directed IRA investors navigate the IRS rules surrounding the purchase and possession of IRS approved precious metals, such as gold or American Eagle coins.
The IRS does not list the type of assets or investments that may be purchased with retirement funds, but does indicate which categories of assets or investments are not permitted. Internal Revenue Code Section 408(m) sets forth a list of approved precious metals and coins that are not considered "collectibles" and may be purchased with retirement funds. "Because the rules for the purchase and possession of IRS approved metals and coins are complex, IRA Financial Trust felt it was important to provide a detailed guide for self-directed IRA investors," stated Adam Bergman, President of the IRA Financial Trust Company, a self-directed IRA custodian.
According to Mr. Bergman, there has been a growing trend of fake news and advertising reports that are incorrectly stating the self-directed IRA investors and hold their IRA owned gold and IRS approved bullion in their home or in their personal possession. This is false and runs in direct contradiction to the Internal Revenue Code which holds under Code section 408(m), that IRS approved metals must be held in the physical possession of a U.S. Trustee, which is defined as a bank or depository.
The IRA Financial Trust Company was founded by tax attorneys who worked at some of the largest law firms in the world, including White & Case LLP and Dewey and LeBoeuf LLP, and have helped over 12,000 clients Self-Direct their retirement funds through their ownership in the IRA Financial Group LLC.
IRA Financial Trust Company is a regulated financial institution that is made up of retirement tax specialists committed to helping you make Self-Directed retirement investments quickly while minimizing annual fees.
IRA Financial Group proudly announces the latest book titled "The Checkbook IRA" written by tax partner Adam Bergman, which is now available on Amazon. Mr. Bergman has written six books on the taxation of self-directed retirement plans including, the best selling book,"Going Solo," which is also available on Amazon.
To learn more about establishing a self-directed IRA account with the IRA Financial Trust Company please visit http://www.irafinancialtrust.com or call 800-472-1043.