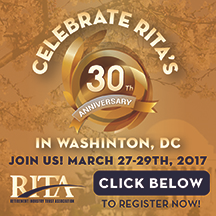 This is where self-directed retirement plan leaders and professionals come to learn from each other and strategize about one of the fastest growing industries in the financial services economy," according to Mat Sorensen
Sarasota, FL (PRWEB) February 21, 2017
Retirement Industry Trust Association (RITA), the voice of the self-directed IRA industry, will be celebrating the 30th year anniversary of the organization at the educational conference to be held at the Mason and Rook hotel in Washington, DC on March 27-29, 2017. Self-directed IRA and retirement plan professionals are invited to attend this event featuring the latest legislative and regulatory changes and commemorating three decades of dedication to this important industry.
Attendees will not only gain access to top experts and influencers in the
self-directed retirement plan industry; they will learn the newest issues, challenges and technology solutions to benefit their companies and how tax reform initiatives will affect the industry. "RITAs conferences are where the most experienced and influential people in the self-directed IRA industry meet. This is where self-directed retirement plan leaders and professionals come to learn from each other and strategize about one of the fastest growing industries in the financial services economy," according to Mat Sorensen, Partner.
KYLER KOHLER OSTERMILLER & SORENSEN, LLP and best-selling author, The Self Directed IRA Handbook.
Invited guest speakers including: Judith Shaw, Securities
Administrator, Maine Office of Securities, Jonathan McMurray, Senior Analyst, Education, Workforce, and Income Security
Team, US Government Accountability Office (GAO) and Vicki Judson, Associate General Counsel (TEGE), IRS will highlight changes, proposals and insights into their respective agencies.
Registration details are available at http://www.ritaus.org. Early bird rates expire February 24, 2017.
About Retirement Industry Trust Association (RITA) RITA is non-profit association of regulated banks, trust companies and industry related professionals and serves as the voice of the self-directed IRA industry. As the leading innovator and contributor of retirement services industry knowledge and "best practices," RITA enables its members to provide the highest levels of retirement account and alternative asset administration and custody services.