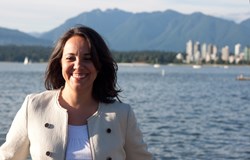 There's such a beautiful moment when your values, intentions, and actions align. When you find that, you begin to feel so right and reunited with your thoughts and desires. And in that moment, there can be no regret.
(PRWEB) February 19, 2014
Certified coach and author Jessica Manca has helped hundreds of women find passion in their careers and personal lives. Manca knows firsthand the struggles women face trying to maintain a balance between a career and family, and she discusses her journey toward personal and professional fulfillment in her book, "Finding Passion." She's releasing these self-discovery tips to help anyone who wants to reconnect with their true selves. From personal and professional experience, she's found this is the perfect starting place to begin the journey of looking inward to reduce the uncomfortable gap between the life you have and the life you want.
1. Carve out time for self-care. With a busy schedule, it's easy to prioritize other tasks and other people over yourself. Every day make the time to connect with your needs for much-deserved sleep, to journal, or to daydream, or you can spend time in a calming and relaxing place.
2. Identify your personal values. It's your life, how do you want to live it? Discover your beliefs and stand behind them; you'll be amazed at how this helps you become centered through life and decisions you face.
3. Create at least one long-term goal. Set targets for the future, or create a bucket list. Achieving these goals will give you something to work toward, no matter how small or grand.
4. Undertake a daily act of courage. Every day do something to bring the future in #3 forward. Take steps toward achieving your goals even when these steps are difficult or intimidating.
5. Practice self-awareness and mindfulness. Listen to your feelings, and take note of what gives you discomfort and inner-conflict. Is it being around a negative person? Is it doing things out of obligation instead of desire? This mindfulness will help you better understand yourself and bring you further in touch with what your emotions and intuition are trying to tell you. With time, you can remember what it's like to trust yourself and your judgement.
6. Recognize what you don't want. Is it time to move on? Is it time to part with an old friendship? What are the things you need to let go of in order to bring forward the life you really want? What happens if you spend your energy on the things that you do want?
7. Admit your shortcomings, as well as your strengths. Give yourself permission to say, "I'm human and still learning." Name areas in which you'd like to grow, cultivate skills, or mature. Get creative with how you can take small steps to practice and improve.
8. Share your discoveries with others. It's important to connect with others in order to avoid feelings of isolation. Showing vulnerability allows you to build authentic connections with others and to see you're not alone.
"At a point in life, many of us question our path," Manca states. "We achieve, reach, and soar only to find ourselves later stuck at another crossroads. This is our journey, which, it seems, we repeat across our lifetime. This journey is learning."
Manca adds, "There's such a beautiful moment when your values, intentions, and actions align. When you find that, you begin to feel so right and reunited with your thoughts and desires. And in that moment, there can be no regret."
For anyone who currently feels unfulfilled, Manca's self-discovery workbook, "Finding Passion," contains additional self-discovery strategies and exercises.
To start reading in under a minute, and to order a copy of the book, shop on Amazon. Available in Kindle and Paperback editions.
About Jessica Manca
Jessica Manca is a certified coach, author, entrepreneur and former management consultant. She founded Managing Mindspaces, a professional coaching firm, providing sensible career and life coaching services to professionals making life-changing decisions. Manca works with clients individually to reduce the fear of unknown, unpack feelings of overwhelm, and develop strategies to bring the ultimate future forward. Manca holds an Associate Certified Coach (ACC) by the International Coach Federation and also is a Certified Executive Coach (CEC). She serves clients across the United States and Canada. Manca can be found online at http://www.managingmindspaces.com/.