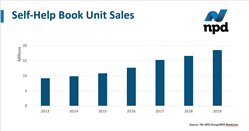 People are yearning for meaning, peace, and calm in today's somewhat chaotic culture—and they're looking for ways to slow down and unplug, which is part of the reason books that inspire people to do just that are doing well.
PORT WASHINGTON, N.Y. (PRWEB) January 13, 2020
The self-help books category has experienced continued and solid growth in recent years. In fact, it has nearly doubled in size since 2013. Unit sales of self-help books have grown at a compound annual growth rate (CAGR) of 11 percent since 2013, reaching 18.6 million in 2019, according to global information company The NPD Group.
According to the latest information from NPD Bookscan, which tracks the U.S. publishing market, the category is also becoming more crowded. The growth in the number of published titles outpaced the rate of sales growth, with the number of unique international standard book numbers (ISBNs) rising nearly three-fold from 30,897 in 2013 to 85,253 in 2019. "This increasing competition will make this high-growth category a challenge for new titles looking to break out and find readers, as publishers and authors compete fiercely for attention," said Kristen McLean, books industry analyst for NPD.
"This is definitely a hot category for aggressive publisher investment, because consumers have placed an increasing focus on mindfulness and minimalism in recent years, " McLean continued. "People are yearning for meaning, peace, and calm in today's somewhat chaotic culture—and they're looking for ways to slow down and unplug, which is part of the reason books that inspire people to do just that are doing well."-
Self-help subjects leading category growth
Motivational and inspirational books, which is the most popular subject in the self-help category, accounted for sales of 4.3 million units in 2019, rising from just 1.4 million units in 2013. Last year in particular, sales of books like "Girl, Stop Apologizing," by Rachel Hollis, and "The Subtle Art of Not Giving a F*ck," by Mark Manson, propelled growth in this subject area.
Books that focus on creativity posted especially strong growth in 2019, with unit sales increasing 43 percent, over the previous year. "Wreck This Journal," published in 2012 and its 2017 update "Wreck This Journal: Now In Color" now dominate the creativity book milieu.
Journaling is another subject that has recently skyrocketed in popularity. Accounting for fewer than 50,000 units in 2015, sales reached 700,000 units in 2019.
"All self-help subcategories are likely to post strong growth in 2020, as the cultural environment continues to churn, and as consumers explore topics related to healthy living, self-improvement, and other popular lifestyle trends," McLean said. "Books are a barometer of people's interests. From new ways of eating, to increased exercise, heightened environmental awareness, and developing new skills, 2020 will kick off a decade of personal exploration on the part of readers that will ripple out in many interesting ways."
About NPD BookScan
NPD BookScan is the gold standard in point-of-sale tracking for the publishing market, covering approximately 85 percent of all the print books sold in the U.S. through direct reporting from all major retailers including Amazon, Barnes & Noble, Walmart, Target, independent bookstores, and many others. Each sale of the more than 16 million units tracked on a weekly basis includes geographic information making it possible to identify key markets, map regional sales trends, and index the likelihood of purchase in 200 major metro areas. NPD BookScan is also the exclusive provider of ALR data for Barnes & Noble, Target, Walmart, and Sam's Club to U.S. publishers.
About The NPD Group, Inc.
NPD offers data, industry expertise, and prescriptive analytics to help our clients grow their businesses in a changing world. Over 2,000 companies worldwide rely on us to help them measure, predict, and improve performance across all channels, including brick-and-mortar and e-commerce. We have offices in 29 cities worldwide, with operations spanning the Americas, Europe, and APAC. Practice areas include apparel, appliances, automotive, beauty, books, B2B technology, consumer technology, e-commerce, fashion accessories, food consumption, foodservice, footwear, home, juvenile products, media entertainment, mobile, office supplies, retail, sports, toys, travel retail, video games, and watches. For more information, visit npd.com. Follow us on Twitter: @npdgroup.