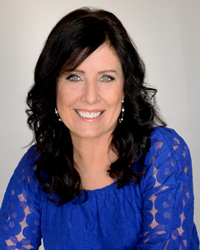 "The book is a portrait of a successful businesswoman, but also a love letter to Allison's family heritage." – Matt Szabo, Los Angeles Times
HUNTINGTON BEACH, Calif. (PRWEB) February 24, 2021
Author, mom and self-made businesswoman Therese Allison announces the "official launch" of her new book, "Playing for Keeps: How a 21st century businesswoman beat the boys" in sync with the upcoming International Women's Day on March 8, 2021. In this self-help memoir, Allison openly shares how she achieved success using a "Velvet Glove for Women" to become financially independent at age 38, and retire early at 43 to spend quality time with her three children.
"The book is a portrait of a successful businesswoman, but also a love letter to Allison's family heritage." – Matt Szabo, Los Angeles Times
Born in Hollywood, Allison grew up in the wealthy town of La Canada, California, in a family of humble means. Her father was an abstract artist and carpet salesman making $25,000. Determined to succeed, Allison assumed more responsibility, learned the importance of winning as a tennis champion in high school, and got her first job at an early age.
Entering into a corporate "man's world" after college in the 1980s and 1990s, Allison quickly learned how to build allies, find solutions and value her worth when negotiating. Using these self-taught skills, Allison broke the glass ceiling as the first female producing Partner in an insurance brokerage company tied to Lloyd's of London where for 300 years, women weren't allowed on the underwriting floor.
Author, Speaker and childhood friend Jeff Eben (How Many Wins Foundation) wrote the book Foreword. Eben emphasizes; "She taught me a valuable lesson about gender equality long before I knew that gender equality was a thing."
Readers can benefit by reading Allison's "Playing for Keeps", which includes her signature "Velvet Glove for Women" and inspiring stories about women in her blood line. The book highlights:

How Allison's signature "Velvet Glove for Women" can positively impact a female's career by using humor while being smart and firm.
How the author's bold female family ancestors used a "Velvet Glove for Women" to succeed, including these three:
1. Grandmother Lotta Allison sailed to Hawaii in 1917 to teach them English, way before Hawaii gained statehood in 1959.
2. Great-great grandmother Tempa Waterman Allison crossed the plains three times before settling in California in the 1850s during the Gold Rush, and was a relative of CA Governor Robert Waterman.
3. Great grandmother Mary Churchill Allison from the same lineage of the Devonshire Churchills, including Winston Churchill and Lady Diana Spencer.
Plus – How Allison used "Lucy Moments" as humor (at her expense) to disarm egos and attract allies from some of the most unexpected people.
"Playing for Keeps" has received rave reviews on Amazon:

"Those who feel defeated in their current career must read this to help change their perspective. This amazing true story reflects the author's real life experiences and how her family's history impacted her career."
"A must read for anyone seeking to advance any kind of career. I especially recommend this book for any father with a daughter (sons can benefit too!)."
"Playing for Keeps is an inspirational memoir…The Allison family heritage is rich with artists, engineers, athletes, visionaries, and entrepreneurs." – Cara Chase
After retiring in 2004, the lightbulbs finally went on about where Allison got her drive when her father (Gould Allison) did research on their heritage, and uncovered a long line of resilient family leaders. Along with the female trailblazers in her blood line, Allison suddenly learned about her grandfather J.C. Allison (who competed against Mulholland to bring water to Los Angeles in the 1920s/30s) and great-great grandfather Robert Allison (whose wife Tempa Waterman Allison was related to CA Governor Robert Waterman, and he was his business partner.) Governor Waterman stood next to his friend and delegate Abraham Lincoln at the first Republican National Convention in 1856. Four years later, Waterman was instrumental in delivering Illinois to put Lincoln in the White House.
With almost 20 years of experience closing multi-million dollar deals and breaking barriers, Allison is now busy mentoring her three children and others to succeed. Her son posted his mother's "16 Pearls of Wisdom" above his desk while attending UCLA, and at age 27, became one of the youngest Principals for a multi-billion corporation headquartered in New York.
Therese Allison praises her father for being "her biggest cheerleader." The author's business triumphs, family heritage and many advice tips fill "Playing for Keeps" with an encouraging success roadmap for all ages.
AMAZON
"Playing for Keeps: How a 21st century businesswoman beat the boys" (2020)
(Available in hardcover, paperback and ebook/Kindle formats)
https://www.amazon.com/PLAYING-KEEPS-century-businesswoman-boys/dp/1735088609
BOOK WEBSITE
http://playingforkeeps21.org
MEDIA CONTACT:
Liz Kelly, 310-987-7207
ABOUT THE AUTHOR - THERESE ALLISON (Huntington Beach, CA, grew up in La Canada, CA) is a self-made success story, mom and Author of "Playing for Keeps – How a 21st century businesswoman beat the boys" (self-help memoir). To help others succeed, Allison openly shares how she became financially independent at age 38, and retired early at 43 to spend quality time with her children. Today, Allison is busy mentoring her three children and others to succeed in business and life. https://www.amazon.com/Therese-Allison/e/B08JKZHSZL