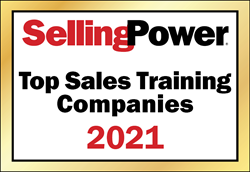 FREDERICKSBURG, Va. (PRWEB) May 11, 2021
Today Selling Power released its list of Top 25 Sales Training Companies in 2021: https://bit.ly/3vQgT3C
This annual list helps sales organizations select the right sales training partner with a track record of producing tangible ROI while providing superior customer service. This year, Selling Power received the most applications in the history of producing this list. For the first time, the selection committee decided that 25 companies deserved recognition and therefore expanded the list from 20 to 25 top companies.
Selling Power founder Gerhard Gschwandtner says this list is particularly important, as COVID-19 required B2B sales leaders to dramatically and rapidly shift their approach to sales growth.
"Sales professionals navigated massive disruption and uncertainty in 2020," he says. "The shift to virtual selling created an opportunity for top sales training companies to adapt their approach and help their clients continue to meet and exceed quota into 2021."
Gschwandtner adds Selling Power will address current sales training challenges with a variety of top B2B sales experts on July 14-15 at its Virtual Sales 3.0 Conference: http://www.sales30conf.com.
All companies on the Selling Power Top 25 Sales Training Companies 2021 list submitted a comprehensive application that included a detailed listing of their offerings for both training and retention, innovative solutions, and their company's unique contributions to the sales training marketplace.
The main criteria used when comparing applicants and selecting the companies to include on this year's list were:
● Depth and breadth of training offered
● Innovative offerings (specific training courses, methodology, or delivery methods)
● Contributions to the sales training market
● Strength of client satisfaction
To evaluate applicants for the list, Selling Power surveyed and considered feedback from over 350 clients of the companies that applied. Here's a brief selection of comments from their clients:
● "They have been nimble with changes related to COVID-19 and have provided great 'value add' activities to continually strengthen the relationship"
● "Simply the best training and coaching in our industry"
● "Training engaged our salespeople and gave them the tools and confidence to increase their close percentages"
● "Skilled, knowledgeable, and very experienced at driving sales performance through training and coaching"
● "An integral part of our transformation journey. We are so grateful for their expertise and contributions"
See the full list of Selling Power's Top Sales Training Companies 2021 at https://bit.ly/3vQgT3C.
About Selling Power
In addition to Selling Power, the leading digital magazine for sales managers and sales VPs since 1981, Personal Selling Power, Inc., produces the Sales Management Digest and Daily Boost of Positivity online newsletters (https://bit.ly/3eqbnP3), as well as videos featuring interviews with top executives. Selling Power is a regular media sponsor of the Sales 3.0 Conference, which is attended by a total of more than 4,500 sales leaders each year (https://www.sales30conf.com).
About Gerhard Gschwandtner
Gerhard Gschwandtner is the founder and CEO of Selling Power, a media company that produces the award-winning Selling Power magazine. He is the author of 17 books about sales, management, and motivation and has been featured in more than 500 video interviews with B2B sales leaders.