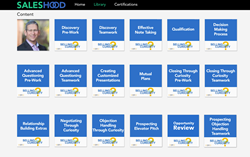 Selling Through Curiosity is one of these sales training programs that only comes around once a millennium
SAN FRANCISCO (PRWEB) September 17, 2018
SalesHood, the leading sales enablement platform confirms customers are achieving record breaking revenue growth resulting from the adoption of SalesHood and Barry Rhein's highly acclaimed Selling Through Curiosity™. The sales training program is available on-demand exclusively in SalesHood to help companies grow top-line revenue faster by automating and prescribing how sales training is delivered, reinforced and measured.
In an effort to enable other high growth companies to embrace and realize the potential of Selling Through Curiosity™, SalesHood is hosting a much sought after in-person Selling Through Curiosity Workshop with Barry Rhein in San Francisco Oct 9-11, 2018: https://saleshood.com/events/sales-training-workshop-2018/
"It's no secret, companies are wasting billions of dollars every year on sales training that's costly, ineffective and inefficient. 95% of what is trained in a workshop is forgotten because of poor reinforcement, certification and best practice sharing," says Elay Cohen CEO of SalesHood and former SVP Sales Productivity at Salesforce.
Selling Through Curiosity™ delivers revenue results in days and weeks versus months and years by leveraging the SalesHood platform to deliver just-in-time collaborative coaching huddles, content rich best practice videos, deal coaching exercises, peer to peer collaboration and certifications. High growth companies such as RingCentral, Yext, Sage Intacct, United Way, Bluewolf, Bloom Energy and many more have embraced Selling Through Curiosity to accelerate growth and dramatically outperform their peers. Some customer quotes of the effectiveness of the program.
"Selling Through Curiosity is one of these sales training programs that only comes around once a millennium. It gets our salespeople into a much more powerful conversation with their client. Part of our incredible success reflects the usability and success of SalesHood and Selling Through Curiosity" Sheevaun Thatcher, Head of Global Enablement at RingCentral
This next generation sales training is delivered on-demand exclusively in the SalesHood platform by front-line managers or trainers to quickly increase win-rates and increase rep quota attainment. Through video and social reinforcement on web and mobile, salespeople have a personal sales coach and team of mentors supporting them all the time, wherever they go.
Praised by tens of thousands of sales professionals, Selling Through Curiosity™ is credited for producing billions of dollars of revenue and shareholder value. The program includes: discovery, effective note taking, qualification, decision making process, advanced questioning, creating custom presentations, mutual plans, closing, objection handling, negotiating, prospecting, and advanced relationship building.
"Transforming a sales organization to obtain short-term and long-term measurable selling results is a complicated process. It's why the majority of sales training programs fail. SalesHood provides the ongoing practice that is missing in all other sales training programs. It's why our customers see immediate and long-term measurable results. I'm excited to partner with SalesHood to offer Selling Through Curiosity™ to every company, team and salesperson on the planet," says Barry Rhein.
About Barry Rhein & Associates
For more than 30+ years, Barry Rhein & Associates is the most sought after sales consulting organization in Silicon Valley. The highly acclaimed Selling Through Curiosity™ program is praised in delivering immediate and measurable sales results, accomplishing in days what would normally take years. Barry Rhein's curiosity-based methodology is widely appreciated for moving far beyond theory and into simple, practical steps that immediately impact attitudes, skills, effectiveness, and earnings of the participants.
About SalesHood
SalesHood is a leading enablement platform created to help teams improve sales productivity and revenue results. We help teams learn and share best practices in a modern way through video storytelling and social learning. Engagement is high and proven to impact outcomes. Revenue results are fast. SalesHood's customers are doubling win rates, exceeding quota attainment, and improving time to ramp. Join the SalesHood Community today. For more information about SalesHood and a free trial, visit us at https://saleshood.com
More resources:
Learn More about why curiosity matters: https://saleshood.com/blog/always-be-curious-with-sales-training-on-demand-by-barry-rhein/
To register fo the Selling Through Curiosity Workshop Oct 9-11, 2018: https://saleshood.com/events/sales-training-workshop-2018/
To see Selling Through Curiosity in action On Demand, visit us at http://www.saleshood.com/selling-through-curiosity/.
See video of Sheevaun Thatcher at RingCentral describing the value: https://youtu.be/uwxASvLnC34