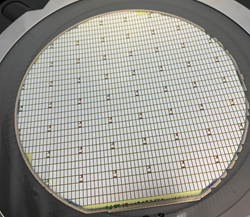 LAKE FOREST, Calif. (PRWEB) December 04, 2020
SemiQ, Inc. ("SemiQ") is proud to announce that they have signed a global distribution agreement with Micross Components ("Micross"), establishing Micross as an authorized worldwide supplier of SemiQ Silicon Carbide (SiC) products offered in Die Form.
As the authorized supply line for SemiQ's SiC products, Micross functions as the bridge between SemiQ's SiC, Diodes & MOSFET bare die offerings and each customer's unique needs. Through this agreement, Micross supplements SemiQ's SiC product line, acting as a turnkey source for customers requiring mission-critical microelectronic components or custom packaging solutions to meet their design and performance goals.
"Micross gives our customers access to our industry leading Silicon Carbide products in wafer and die form," comments Michael T. Robinson, SemiQ President. "They are the leader in the supply of semiconductor wafers and die, and bring many value added options for our customers. As the adoption of SiC continues to expand, customers are now able to use our die in the development of innovative applications."
"Our agreement with SemiQ enables us to increase our product offerings specifically high power SiC products to customers worldwide," said Tony Hamby, Sr. VP of Global Die. "This new partnership with SemiQ leverages the complementary strengths of the two organizations to further enhance the Micross One Source offering to our customers."
About SemiQ
SemiQ designs, develops and manufactures Silicon Carbide (SiC) Power Semiconductors as well as 150mm SiC epitaxial wafers. SiC Diodes and MOSFETs are available in both discrete and module form factors as well as bare die and wafer form. SemiQ also offers power conversion application expertise which includes sub system design and semi-custom modules. SemiQ serves the following end markets: Electric Vehicle Chargers and Charging Stations; Power Factor Correction (PFC); Output Rectification; Power Supplies including Server Farms; Solar Panel Inverters, Welding, Medical Equipment; and Motor Drives. SemiQ's manufacturing and engineering facilities are located in Lake Forest, California. The company is uniquely positioned with a fully redundant SiC supply chain.
About Micross
Micross (http://www.micross.com) is the global one-source provider of Bare Die & Wafers, Advanced Interconnect Technology, Custom Packaging & Assembly, Component Modification Services, Electrical & Environmental Testing and Hi-Rel Products to manufacturers and users of semiconductor devices. In business for more than 40 years, our extensive hi-reliability capabilities serve the Aerospace & Defense, Space, Medical and Industrial markets. Micross possesses the sourcing, packaging, assembly, engineering, test and logistics expertise needed to support an application throughout its entire program cycle.