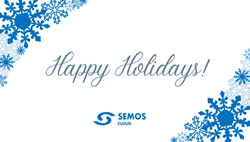 We are making small steps towards building a better world, filled with more compassion, empathy, and extra smiling faces.
LEWISVILLE, Texas (PRWEB) December 23, 2020
Semos Cloud now offers a compassionate way for their Employee Experience platform users to redeem earned recognition points. Integration with GlobalGiving helps to build a streamlined experience of the global giving programs and enables users to connect with thousands of organizations worldwide.
With an extensive community of vetted global nonprofits, GlobalGiving is a trusted donation platform. The employees who want to give can use this option to access the portfolio of thousands of projects in 170+ countries and support great causes with convenient donation processing. Users can donate directly via Semos Cloud's Employee Experience platform and GlobalGiving will handle the rest.
"We have not seen a year like 2020 with the hardships the COVID-19 pandemic has brought," said Goran Rice, Chief Revenue Office at Semos Cloud. "In these difficult times, we witness random acts of kindness in all shapes and forms all around us. By integrating our employee recognition solution with established nonprofits around the globe, we support the charity and corporate giving initiatives of modern organizations. Organizations that support charitable contributions win in the eyes of the employees."
Employees prefer employment in socially responsible companies, and employers commit to such initiatives by supporting charitable programs at work. A recent survey found that the most relevant benefits of a company's workplace giving program are:

Giving back to the community (75%)
Attracting new talent (55%)
Retaining and engaging existing employees (39%)
Semos Cloud's end-to-end Employee Experience platform offers an intuitive user experience to redeem recognition points for charity donations, based on location and choice of interest. JobPts, an SAP® endorsed app built on SAP Business Technology Platform, and integrated to SAP® SuccessFactors® Performance & Goals using SAP Cloud Platform Integration Suite, helps to enable companies to extend the existing HR technology stack and bring human experience management initiatives to the next level. It comes with built-in solutions for internal employee communications, employee surveys, and feedback management, which makes it the most comprehensive solution for more engaged workplaces.
###
About Semos Cloud
Semos Cloud is an HR Tech company with an innovative Employee Experience platform integrated with SAP® technology, including SAP® SuccessFactors® solutions. Our solutions for employee recognition, feedback management, internal employee communications, and workplace collaboration are reshaping the experience of thousands of employees across the globe. To learn more, visit: https://semoscloud.com.
Any statements in this release that are not historical facts are forward-looking statements as defined in the U.S. Private Securities Litigation Reform Act of 1995. All forward-looking statements are subject to various risks and uncertainties described in SAP's filings with the U.S. Securities and Exchange Commission, including its most recent annual report on Form 20-F, that could cause actual results to differ materially from expectations. SAP cautions readers not to place undue reliance on these forward-looking statements which SAP has no obligation to update and which speak only as of their dates.
SAP and other SAP products and services mentioned herein as well as their respective logos are trademarks or registered trademarks of SAP SE in Germany and other countries. Please see https://www.sap.com/copyright for additional trademark information and notices. All other product and service names mentioned are the trademarks of their respective companies.