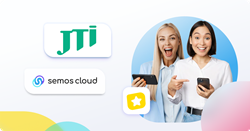 "It's an extraordinary experience to watch JTI's R&R program grow into a global system supporting 48,000 employees across departments, markets, data systems, and languages. Looking forward to building more unique solutions with JTI's team and pushing the envelope even further." - Miodrag Stojanov
LEWISVILLE, Texas (PRWEB) November 18, 2022
Semos Cloud, a provider of impactful HR technology for organizational culture, announces a go-live of the new and upgraded features of the Rewards and Recognition (R&R) platform for their client, JTI (Japan Tobacco International).
JTI's employees have been using Semos Cloud's JobPts for 2 years under the internal name Inspire. Inspire helped the company engage its 48,000 employees worldwide. The terrific engagement results made a strong case for a new, enhanced R&R program.
JTI's employees can now enjoy the enhanced benefits of Inspire, the enterprise-level culture and recognition system built on top of the SAP Business Technology Platform on several channels.
Semos Cloud developed new features and functionalities guaranteed to boost Inspire's adoption rates among employees and enhance the user experience for employees and managers.
New recognition channels
The program is adapted for everyday use with integrations to popular communications platforms, Microsoft Teams, and Workplace. JTI took special care to include deskless, factory employees in the program by enabling offline options for recognition as well, making it a fully inclusive experience.
The latest addition to JTI's R&R solution is Inspi, a chatbot with adaptive cards integrated with MS Teams and Workplace. Inspi is an additional channel for providing and receiving recognition, making R&R recognition straightforward, fast, and accessible to desktop and deskless workers. The chatbot also provides a chit-chat function, entertaining the employees for comic relief and instant company.
The upgraded and enhanced R&R solution for JTI also includes complex but, for the company, essential integration of the R&R solution with not only SAP's SuccessFactors, but also with Microsoft's Azure AD, another platform storing employee data.
New integration capabilities
Semos Cloud integrated the R&R solution into both systems, combining the data within JobPts to comprehensively handle all employee data, regardless of where it is stored. Based on this complex integration, JTI can have a global recognition program across departments, markets, regions, and job functions.
Additionally, Semos Cloud's tech team has migrated all JTI's recognition data using the latest HANA Cloud database service and the Cloud Foundry, ensuring the upgrade without any interruptions to the existing recognition program.
Miodrag Stojanov, Senior Staff Software Engineer of Semos Cloud comments about this latest upgrade: "We cherish our ongoing relationship with JTI. It's an extraordinary experience to watch JTI's R&R program grow from scratch to a global system supporting 48,000 employees across continents, departments, markets, data systems, and languages. The R&R program Inspire is successful because we built it in collaboration with JTI and drew inspiration from the employees. I enjoy innovating and bringing value to JTI's team and look forward to the unique solutions we will build together in the future and push the envelope even further."
About Semos Cloud
Semos Cloud is an HR technology firm that provides an Employee Experience platform fully integrated with SAP® system technology, including SuccessFactors® product suite solutions. Their solutions for employee recognition, feedback, management, health and wellbeing, internal employee communication, and employee journeys are reshaping the experiences of thousands of employees across the globe. To learn more, visit https://semoscloud.com.