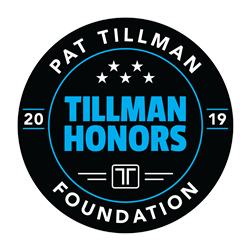 Ahead of Veterans Day, the Pat Tillman Foundation celebrates Pat's legacy by honoring two people who exemplify his fortitude and spirit of service and who have carried that legacy forward through remarkable civic contributions.
CHICAGO (PRWEB) November 01, 2019
The Pat Tillman Foundation (PTF) is proud to announce that late Arizona Sen. John McCain and Mayor Adrian Perkins of Shreveport, Louisiana will be honored for their remarkable leadership and commitment to service at Tillman Honors on Friday, Nov. 8, in Chicago, Illinois.
Tillman Honors, presented in partnership with the NFL, celebrates Pat Tillman's legacy by honoring those who exemplify his fortitude and spirit of service, and who have carried that legacy forward through remarkable civic contributions. The annual benefit includes the presentation of the Champion and Make Your Mark Awards and showcases the global impact of Tillman Scholars as the next generation of leaders committed to service beyond self.
Ahead of Veterans Day, this year's event brings together hundreds of Tillman Scholars and supporters from around the country to present the 2019 Champion Award posthumously to Sen. John McCain for his lifelong service, leadership and moral fortitude. PTF is also proud to present the 2019 Make Your Mark Award to Tillman Scholar Adrian Perkins for his innovative vision, leadership through action and commitment to address policing reform, economic development, and smart-city initiatives to empower the citizens of his hometown, Shreveport, Louisiana.
Tillman Honors will take place at 12 p.m. at Venue SIX10 in Chicago, Ill. The event is made possible thanks to the generosity of the NFL, TEKsystems, Jim & Karen Frank, Quinn Emmanuel, TRIMEDX, Polen Capital, John & Jill Svoboda, BMO Harris Bank, William Blair, Arizona State University, Rewards Network, MBRE Healthcare, Janet and Craig Duchossois, R1, Wintrust Bank, Dick's Sporting Goods, Shore Capital Partners, Summit Trail Advisors, Harrison Street, Jet Support Services, JSSI, Comcast, Lettuce Entertain You and Greg & Anna Brown Family.
If you are a member of the media who wishes to arrange an interview or secure press credentials for Tillman Honors, please contact Shannon Speshock at (224) 408-0451, sspeshock@pattillmanfoundation.org.
About Senator John McCain
Sen. John McCain's remarkable record of leadership embodies his lifetime commitment to service. McCain served as a naval aviator for 22 years, including in North Vietnam during the Vietnam War. His naval honors include the Silver Star, Bronze Star, Legion of Merit, Purple Heart and the Distinguished Flying Cross. McCain was elected to the U.S. House of Representatives from Arizona in 1982 and elected to the United States Senate in 1986. He was the Republican Party's nominee for president in the 2008 election. Over the course of his career, McCain served as Chairman of the Senate Committees on Indian Affairs, Commerce, Science and Transportation, and most recently, Armed Services.
About Tillman Scholar Adrian Perkins
Adrian Perkins was born in Shreveport, Louisiana. At West Point, he served as the first African American Cadet elected Class President in the Academy's history. After three tours of duty with the U.S. Army, Perkins enrolled at Harvard Law School, where he was named a 2015 Tillman Scholar. Perkins announced his candidacy for mayor of Shreveport on April 26, 2018. During the campaign, he stressed policing reform, economic development, and smart-city initiatives. Perkins was installed as the 56th Mayor of Shreveport on Dec. 29, 2018.
About the Pat Tillman Foundation
In 2002, Pat Tillman proudly put his NFL career with the Arizona Cardinals on hold to serve his country. Family and friends established the Pat Tillman Foundation following Pat's death in April 2004 while serving with the 75th Ranger Regiment in Afghanistan. The Pat Tillman Foundation unites and empowers remarkable military veterans and spouses as the next generation of public and private sector leaders committed to service beyond self. The fellowship program supports Tillman Scholars with academic scholarships, professional development opportunities and a national network, so they are empowered to make an impact in the world. For more information on the Pat Tillman Foundation and the impact of the Tillman Scholars, visit PatTillmanFoundation.org.
#####