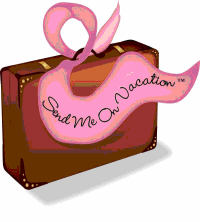 Las Vegas (PRWEB) October 20, 2014
In Las Vegas, Nevada, Tony Hsieh, Internet entrepreneur, venture capitalist and CEO of Zappos.com partnered with Send Me On Vacation to Zap Out the Effects of Cancer at the Container Park on East Fremont Street on Oct 10, 2104. Donating the Container Park to host a benefit concert to raise funds to send a local breast cancer survivor on a dream vacation, Tony made Kelly Erwin's vacation dream come true and she is going to Hawaii.
Late night talk show host Will Edwards was the emcee for the evening while top 90's tribute band, Empire Records opened and closed the show. Great vocal performances by Jack Walker, and Rhayne Thomas, Vice President of Send Me On Vacation and a recent cancer survivor, moved the hearts of many Las Vegas residents throughout the night.
Kelly Irwin was awarded her vacation by Patrick Duffy, Chief Experience Officer. Comprehensive Cancer Centers of America Lisa Santwer, nominated Kelly Irwin for the vacation award from Send Me On Vacation. Send Me On Vacation is planning to send other Las Vegas recipients on vacations with funds they will acquire from the BraTini Brunch held at Eccoci Clothing Boutique in Boca Park located at 750 S Rampart Las Vegas, NV.
Honoring breast cancer survivors across America, Send Me On Vacation Jets Pink on Jet Blue Airlines in October in honor of Breast Cancer Awareness month. As the group showed the softer side of Jet Blue, "Jet Pink," crew members jumped on board the charity's bandwagon to earn airline tickets in exchange for volunteerism, a program Jet Blue supports to encourage employees to get involved in their communities and give back.
Marie Wiliams, Narda Middleton and Ashleigh Davis will lead the SMOV Ambassadorship program, encouraging Jet Blue employees to become ambassadors. All three crew members commented that they had been looking for a cause to get involved in that touched their heart and soul and empowering women.
"Jet Blue was amazing in every way," said founder Cathy Backus. "From checking in, to the exceptional flight crews, to claiming baggage, every employee was so excited to be part of the tour."
The group wore t-shirts that said Jet Blue-Jet Pink, catching the interest of both crew members and passengers. Over 1.9 million followers were tracking the eight-day journey across America on social media.
For more information on Send Me On Vacation go to http://www.sendmeonvacation.org.
###
JW Maxx Solutions is a leading online reputation management and public relations firm that handles all of the press distribution for Send Me On Vacation. In addition, the company hosts and updates the SMOV site on a regular basis, assisting in SMOV's efforts to get the word out about its incredible program. JW Maxx Solutions provides this services as part of its philanthropic efforts to assist with several worthy causes around the world. The firm has long been a supporter of Send Me On Vacations' program and sponsors several events every year. For more information about the services that JW Maxx Solutions provides, visit http://jwmaxxsolutions.com.