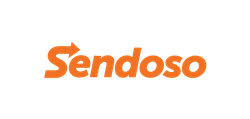 "[The new Cameo integration] is unique, creative, fresh, and helps you to stand out from your competition," said Kris Rudeegraap, CEO and founder of Sendoso.
SAN FRANCISCO (PRWEB) October 21, 2020
Sendoso, the leading Sending Platform, today announced their partnership with Cameo, the platform that connects fans directly with their favorite pop culture icons, to bring celebrity experiences to B2B buyers, delivering personal experiences at scale. In addition to its Cameo integration, Sendoso launched several new features on the Sending Platform to deliver the new standard of personalization and memorable experiences that scale.
With Cameo's first B2B tech integration, Sendoso customers can connect with prospects and customers by sending custom-recorded celebrity videos personalized to the recipient. Marketing, sales, and CX teams can use these videos to stand out, build meaningful relationships, and get buyers to take action. If you know that your customer is a big fan of Daymond John, Carole Baskin, or Joe Montana, for example, you can send them a one-of-a-kind video message with that celebrity saying happy birthday to your recipient or explaining why they'd be a good fit for your offering. Making these unique videos, as opposed to using one general video for mass outreach, creates that magical moment where the customer knows this was made just for them — the ultimate form of personalization. These bespoke experiences give revenue-driving teams a way to add creativity to differentiate their virtual events, outreach, and brand throughout the buyer's journey.
"It's become harder than ever to cut through digital clutter and make a real impact on customers," said Kris Rudeegraap, CEO and founder of Sendoso. "By teaming up with Cameo, we're enabling our customers to deliver memorable experiences that deliver maximum ROI across marketing, sales, and CX. Those teams are empowered to close out 2020 successfully with this novel approach, where they can send prospects or customers personal messages from their favorite celebrities. It's unique, creative, fresh, and helps you to stand out from your competition."
In 2020, we all learned to expect the unexpected. The companies that are winning in this environment evolved their traditional sales and marketing playbooks in favor of enabling a creative, diverse, and integrated strategy to thrive. The experiential power of Sendoso and Cameo makes the impossible possible, connecting teams with prospects they couldn't reach before. Strategic sending of direct mail and gifts — and now with experiences like Cameo — consistently delivers the strongest ROI for engaging, acquiring, and retaining customers in the new normal.
"Cameo's mission has always been to connect people through meaningful experiences and engagements with their favorite celebrities," said Steven Galanis, CEO and co-founder of Cameo. "Jumping into the B2B world with Sendoso is an exciting next step in Cameo's own growth and possibilities. Our teams are already seeing a ton of creativity with the integration, and we're excited to bring the power of pop culture to B2B buyers."
By leveraging Sendoso's Cameo integration, Sendoso customers can easily access the pop culture video platform to engage with prospects and customers, all while tracking its effectiveness and ROI through Sendoso's Analytics Dashboard. This makes it easier than ever for marketing, sales, and CX teams to show tangible success metrics to their C-suite leaders.
"Gong is dedicated to providing our customers and prospects with unique, memorable, and highly personalized experiences — Cameo and Sendoso, together, allow us to achieve this goal efficiently," said Laura Vitaro, Senior Manager, ABM at Gong. "We've just started using Cameo for prospecting, and the integration with Sendoso will save us massive amounts of time. In fact, the first member of our team to use Cameo for prospecting booked three out of three meetings. We are now using Cameo for prospecting across all segments of our business, as well as event promotion, and customer engagement."
Sendoso also launched several new features to deliver the new standard of personalization and memorable experiences that scale. These new features include:

Sendoso Experiences enables senders to deliver cooking, cocktail making, and dance classes that recipients can enjoy at home with their families and friends.
Meeting Scheduler allows senders to offer a relevant or personal eGift in exchange for booking a meeting.
ABM integrations allow customers to measure from 6sense, Engagio (now part of Demandbase), Terminus, Bombora, and Rollworks. Sendoso now also supports Transcend, to keep businesses GDPR-compliant, and Zapier, connecting users with more than 2,000 apps.
Automated sending triggers add an approval step to the sending process and give more control over what's going out. Triggers can come from Salesforce, Marketo, Hubspot, or Eloqua, and can be rejected or approved as needed.
Address Confirmation enhancements include automatic reminder emails 24 hours before expiration to improve confirmation rates and adjust the expiration criteria from two days to up to seven.
Sendoso customers can start sending Cameo videos and leveraging the Sending Platform's new features today. To learn more about how Sendoso can help build meaningful relationships with hyper-personalized sending, visit sendoso.com.
About Sendoso
Sendoso, the leading Sending Platform, is the most effective way for revenue-driving teams to stand out with new ways to engage at strategic points throughout the customer journey. By sending personalized gifts, branded swag, and eGifts at-scale, Sendoso customers see significant time savings per campaign, an increase in conversion rates, and higher retention rates. Founded in 2016, Sendoso is backed by $54M in venture funding and has a global footprint, with a presence in North America, Europe, and Asia Pacific. Learn more at sendoso.com.
About Cameo
Cameo is the first service enabling consumers to interact with their favorite pop culture icons. In just over three years, the company has built a talent portfolio with tens of thousands of VIPs and fulfilled over 1 million requests ranging from birthday and good luck messages to prom invitations, marriage proposals, baby gender reveals and beyond. For more information, visit http://www.cameo.com.