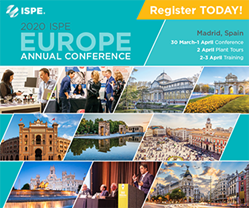 BETHESDA, Ma. (PRWEB) February 13, 2020
The International Society for Pharmaceutical Engineering (ISPE) announced its keynote presenters for the 2020 ISPE Europe Annual Conference. Taking place on 30 March–1 April 2020 in Madrid, Spain, keynote addresses showcase senior-level global pharmaceutical industry leaders offering compelling and enlightening presentations on industry-critical technical developments.
This is Europe's most comprehensive event on the latest innovations in pharmaceutical manufacturing, and this year's conference programme is packed with 40+ content-rich sessions led by a dynamic line-up of compelling regulatory and industry experts.
Keynote Presenters:
Myles O'Neill, Global Head of Operations, Eli Lilly
Myles will discuss Lilly's perspective on future pharmaceutical operations.
Frédéric Revah, CEO, Genethon
Frédéric will examine innovations in biotechnology.
Teresa Rodo, Head of Global Healthcare Operations, Merck KGA
Teresa will explore how to boost and sustain your operations performance for tomorrow.
Steffen Lang, Global Head of Novartis Technical Operations, Novartis
Steffen will provide insight into the technical operations at his organisation.
Maria Jesus Lamas Diaz, PhD, Director, Spanish Agency of Medicines and Medical Devices (AEMPS)
Dr. Jesus Lamas Diaz will share key regulatory developments in Spain.
Brendan Cuddy, Head of Manufacturing and Quality Compliance, EMA
Brendan will join Dr. Jesus Lamas Diaz in providing key regulatory updates.
Leaders representing EMA, FDA, United Kingdom, Ireland, Spain, Germany, Italy, Switzerland, Russia, WHO, and EDQM Strassbourg will provide compelling and thought-provoking insights during a Plenary Panel Discussion with Regulators.
The 2020 ISPE Europe Annual Conference will feature the Executive Forum Keynotes on 30 March, plant tours on 2 April, and in-depth training on 2–3 April.
To explore the programme and to register, please visit ISPE.org/EUAC20.
About ISPE
The International Society for Pharmaceutical Engineering (ISPE) is the world's largest not-for-profit association serving its members through leading scientific, technical, and regulatory advancement across the entire pharmaceutical lifecycle. The 18,500 members of ISPE are building solutions in the development and manufacture of safe, effective pharmaceutical and biologic medicines, and medical delivery devices in more than 90 countries around the world. Founded in 1980, ISPE has its worldwide headquarters and training center in North Bethesda, Maryland USA, and its operations center in Tampa, Florida USA. Visit ISPE.org for more information.
For more information, contact:
Amy Henry
Marketing Communications Manager
International Society for Pharmaceutical Engineering (ISPE)
Tel: +1-813-960-2105
Email: ahenry@ispe.org
ISPE.org