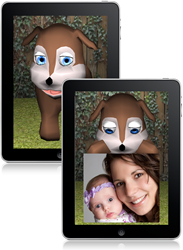 Dementia is an enormous and growing issue and professionals need to be aware of how the GeriJoy Companion can help.
Boston, MA (PRWEB) July 16, 2013
AAIC 2013 is the world's leading forum on dementia research, featuring more than 55 scientific sessions and over 1,500 poster presentations on dementia-related discoveries and innovations. Dementia Care @ AAIC: Translating Research to Practice is a one day program on July 17, 2013, presented in collaboration with the Alzheimer's Association Massachusetts/New Hampshire Chapter, that will showcase evidence-based programs and practices, disseminate information to thought leaders and change agents, and facilitate the exchange of ideas and collaborations among international care experts. This year, GeriJoy will be exhibiting at Dementia Care @ AAIC, at booth #17.
In a press statement, GeriJoy CEO Victor Wang said, "Dementia Care @ AAIC is the perfect venue for GeriJoy to disseminate our solution to dementia care experts and thought leaders around the world. Dementia is an enormous and growing issue and professionals need to be aware of how the GeriJoy Companion can help."
Operated by GeriJoy trained care staff, the GeriJoy Companion is a tablet-enabled virtual pet that is able to have compassionate conversations with its owner, 24x7. The human-driven intelligence of the GeriJoy Companion also allows it to act appropriately in emergency situations; for example, the GeriJoy Companion has been known to detect and prevent elder abuse. GeriJoy's patent-pending technology also allows the GeriJoy Companion to pull up photos of family and friends, reinforcing memories and family connections. GeriJoy currently has a focus on dementia care, and GeriJoy customers have reported that the mental health benefits of the GeriJoy Companion have helped to reverse Alzheimer's symptoms.
About GeriJoy
GeriJoy Inc. was founded by MIT researchers Victor Wang and Shuo Deng to improve quality of life for seniors and their families through friendly technology. The GeriJoy Companion, their flagship service, is a virtual pet that is backed by GeriJoy's worldwide team of 24/7 care staff. The staff guide the pet's speech to provide elders with the experience of having an always-available conversational companion that can talk with them about family photos and other information from the Internet. Essentially, the GeriJoy Companion is a talking dog that serves as a helpful family member, not only improving mental health for elders but also providing peace of mind for caregivers. GeriJoy has been recognized by organizations like AARP, TEDMED, and the US Senate as a leading innovator in senior care. The company is based in Cambridge, MA. To find out more, or to order GeriJoy's service for your own family, please visit http://www.GeriJoy.com or email info(at)GeriJoy(dot)com.
About Dementia Care @ AAIC
Dementia Care @ AAIC: Translating Research to Practice is a one-day program presented in collaboration with the Alzheimer's Association Massachusetts/New Hampshire Chapter. Launched in response to overwhelming interest and demand, Dementia Care @ AAIC is an enhanced version of the former Dementia Care Conference hosted by the Alzheimer's Association from 1991 to 2008. As a part of AAIC, the program will answer the demand for a global forum to discuss research results that impact dementia care. This year, Dementia Care @ AAIC will take place on July 17th at the Boston Convention and Exhibition Center in Boston, Massachusetts. Registration and more info is available here: http://www.alz.org/aaic/care/