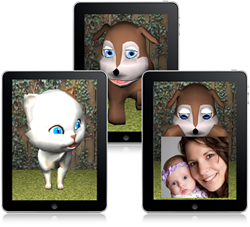 Louisville, KY (PRWEB) November 11, 2013
The inaugural Louisville Innovation Summit will convene Tuesday, November 12 and Wednesday, November 13, in Louisville, KY, bringing together the nation's largest senior care providers, top innovators, and industry leaders to redefine the future of quality aging care.
GeriJoy is one of only six companies invited for an Innovator Spotlight and one of only ten exhibitors in the "Entrepreneur's Garage" exposition. Companies were chosen based on how they reflect the conference's core mission: celebrating real innovation in the aging-care space. The selections were made by a former senior editor from Wired.
GeriJoy's CEO Victor Wang will also be speaking on a panel titled "Enhancing the Resident Experience," which will be held at the Nucleus Innovation Park on Tuesday.
About GeriJoy
GeriJoy Inc. was founded by MIT researchers Victor Wang and Shuo Deng to improve quality of life for seniors and their families through friendly technology. The GeriJoy Companion, their flagship service, is a virtual pet and companion for the elderly that is backed by GeriJoy's worldwide team of 24/7 care staff. The staff guide the pet's speech to provide elders with the experience of having an always-available conversational companion that can talk with them about family photos and other information from the Internet. Essentially, the GeriJoy Companion is a talking pet that serves as a helpful family member, not only reducing loneliness and improving mental health for elders but also providing peace of mind and reducing stress for caregivers. GeriJoy has been recognized by organizations like AARP, TEDMED, and the US Senate as a leading innovator in senior care. The company is based in Cambridge, MA, and is backed by investors such as Blueprint Health and Esther Dyson. To find out more, or to order GeriJoy's service for your own family or senior care organization, please visit http://www.GeriJoy.com or email info(at)GeriJoy(dot)com.
About the Louisville Innovation Summit
The Louisville Innovation Summit is convening an unparalleled assembly of CEOs and industry leaders committed to transforming thought leadership in innovation for aging care of the future. Leaders and innovators will provide insight, share expertise and explore new avenues of ingenuity to redefine the future of quality aging care.