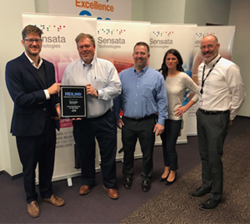 WILMINGTON, Mass. (PRWEB) February 19, 2019
Heilind Electronics, a premier distributor of electronic components worldwide, was recognized with the 2019 Channel Partner of the Year award by Sensata Technologies – a global leader in the development and manufacture of sensors and controls.
The award was presented to Heilind Electronics by Sensata's Vice President of Industrial and Commercial Excellence, Matthew Lesniak, at the 2019 Sensata Sales Summit held earlier this month in Attleboro, Massachusetts. Facilitating the reception was Sensata's Channel Director, David Foster. "Heilind delivered the highest percentage of new revenue and customers within the Sensata industrial channel," said Foster. "Heilind will continue to grow with Sensata as we expand our portfolio of leading-edge sensing solutions."
Since Heilind became an authorized distributor for Sensata Technologies in 2016, it has continued to expand its sensor offerings through the integration of several Sensata divisions. In addition to its standard line of Sensata industrial pressure sensors, Heilind's growing Sensata portfolio includes solid state relays from Crydom, position sensors from BEI, and pressure sensors from both Kavlico and Sensata.
"It's been a pleasure to work with David and his team toward earning this distinction," said Glen MacGibbon, Vice President of Business Development - Sensors, Heilind Electronics. "To be acknowledged as Sensata's top channel partner is a testament to our growing success in the sensor market. This is a result of Heilind's proactive efforts to not only acquire new customers, but to work with them on integrating next-generation designs that meet their custom requirements."
About Heilind Electronics
Heilind Electronics, Inc. (http://www.heilind.com) is one of the world's leading distributors of connectors, relays, sensors, switches, thermal management and circuit protection products, terminal blocks, wire and cable, wiring accessories and insulation and identification products. Founded in 1974, Heilind has locations throughout the U.S., Canada, Mexico, Brazil, Germany, Singapore, Hong Kong and China. Follow Heilind on Facebook at facebook.com/Heilind and on Twitter at twitter.com/Heilind.
About Sensata
Sensata Technologies is a world leader and early innovator in mission-critical sensing, electrical protection, control and power management solutions. Sensata's operations span twelve countries and cover a broad range of markets, including aircraft, appliance, automotive, HVAC, industrial, marine, military and telecommunications. For more information, visit http://www.sensata.com.