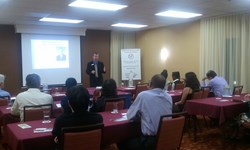 The Solo 401k plan allows tax-deferred or tax-free investment without custodian consent.
Los Angeles, CA (PRWEB) August 27, 2013
Sense Financial Services LLC, one of the leading providers of the Real Estate IRA LLC , is proud to announce the newest addition to its growing team. Maria Alma Alfante serves as the Client Communications Coordinator for the plan provider of self-directed retirement accounts. The Southern California-based company has provided various lucrative and wealth-boosting investment options for its account holders. One of its top retirement plans is Self Employment 401k or Solo 401k, which allows plan holders to invest their retirement funds in almost all types of investment opportunities including real estate, foreign currencies, precious metals, stocks and bonds.
One of the benefits of the Solo 401k plan is that it allows tax-deferred or tax-free investment without requiring custodian consent. This self-directed retirement plan for the self-employed and small business owner allows participants to invest their retirement funds in a wide range of opportunities. The company also specializes in the Real Estate IRA LLC, also known as a Checkbook IRA, which many use to invest in various real estate opportunities.
The new Client Communications Coordinator position was created as a result of Sense Financial Service's rapidly expanding client base. The company serves its clients nationwide and recognizes its need for a communications specialist to benefit its clients. Ms. Alfante comes to Sense Financial with extensive knowledge and experience in the communications and client relations industry. She has worked as a Senior Consultant at AT&T Mobility, Fox Mobile Group and Linksys. Her new role as Sense Financial's Client Communications Coordinator will help ensure client satisfaction through her provision of customer service for both current and potential clients.
The Client Communications Coordinator is tasked to initiate and keep in touch with clients. She is responsible for updating them about new events, investment opportunities and the status of their orders. She will oversee and manage the appointments with clients to ensure steady and constant communications with them. Sense Financial Services has added Ms. Alfante to its team to ultimately offer the best service to its clients.
About Sense Financial Services:
Sense Financial is California's leading provider of retirement accounts with "Checkbook Control": the Solo 401k and the Checkbook IRA. Over the years, they have assisted hundreds of clients obtain checkbook control over their retirement accounts while providing them with the ability to invest in virtually any investment class, including real estate, private lending, mortgage notes and much more without the need for custodian approval.
To learn more about the solutions they provide, please contact: (949) 228-9393.