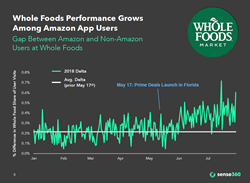 LOS ANGELES (PRWEB) August 28, 2018
Just a year after Amazon anted-up $13.7 billion for the Whole Foods grocery store chain, it has delivered on its promise of lower prices and tight integration with its ubiquitous Prime loyalty program.
According to a report by Sense360, a leading data insights company, the Whole Foods acquisition has incentivized Amazon Prime renewals, attracted new customers into the Amazon ecosystem, and helped Whole Foods gain market share.
"Prime is this really important part of Amazon strategy, and I think that starts getting at the heart of the grocery question," says Eli Portnoy, CEO of Sense360. "If Amazon wants to make it super-compelling to be a Prime member, it makes sense to make those discounts and benefits available and applicable in everyday shopping items, like groceries. Amazon now has a platform with which they can dole-out even more day-to-day benefits to Prime members, making membership even more irresistible."
According to Sense360's data analysis, Amazon Prime members have increased their visits to Whole Foods at twice the rate of non-Prime members. Equally impressive, Whole Foods has gained two percent in market share over Trader Joe's, one of its chief rivals in the marketplace.
This is particularly significant for Amazon, says Portnoy, because it means that more "urban influencers" – highly educated, high income consumers – are being drawn into the company's ecosystem. "Amazon didn't just buy a grocery store chain, they bought a new pipeline for growing their entire business," he says.
In just one year, Amazon has emerged as a formidable competitor in the grocery sector, and is also gaining ground on national discount chains and drugstores.
More real-time insights on how Amazon Prime is fueling growth at Whole Foods and beyond is available in a free Sense360 white paper entitled "Real-Time Insights About Amazon Prime at Whole Foods."
About Sense 360
Sense 360 is a data and insights company that empowers business leaders to continuously grow their businesses by making consistently great decisions, quickly and with conviction. Through bringing together all the data that matters and creating accurate tools that are highly accessible and supported by a team of experts, Sense360 is revolutionizing the current state of market research – which has been plagued by high-cost, static products that are neither timely nor accurate. Sense 360 was founded in 2014, and is headquartered in Los Angeles.