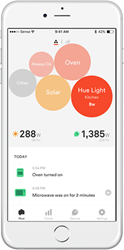 "With this Philips Hue integration, Sense makes homes more intelligent, efficient, reliable and secure."
CAMBRIDGE, Mass. (PRWEB) July 23, 2018
Today, Sense® announced integration of its home energy and awareness monitor with Philips Hue, the leading smart lighting system for the home. From the Sense app, homeowners can now track and control their Hue lights, see energy usage trends and observe daily patterns.
The Sense Home Energy Monitor measures power one million times per second, so homeowners know how much energy their home is using in real-time. The monitor is installed in your electrical panel and uses machine learning to automatically sense the electrical signals of devices in your home. Like a fitness tracker for your home, Sense tells you what's on and when, how much energy your appliances are using and what they cost you.
With the Philips Hue integration, Sense tracks the entire line of smart lighting products. From the Sense app, homeowners can check when their lights have turned on while away on vacation or when children arrive home from school. Homeowners can see historical trends and analyze their energy usage, set goals and create alerts.
Homeowners can also create IFTTT Applets to do more with their Hue smart lighting and Sense. For instance, if an oven is on for more than two hours, then the Hue lights turn red, or if the clothes dryer is finished, then the Hue lights turn green.
"Most smart home devices are great at control. Tell them what to do, and they'll do it," said Sense CEO Mike Phillips. "With this Philips Hue integration, Sense makes homes more intelligent, efficient, reliable and secure."
Sense is available on Amazon and at sense.com for US and Canadian customers. To learn more about Sense, visit http://www.sense.com, and for our videos, visit https://www.youtube.com/sense.
To learn more about Philips Hue smart lighting, visit http://www.meethue.com. Philips Hue is the smart home lighting brand of Signify, the world leader in lighting.
About Sense
Sense's mission is to make all homes intelligent by keeping people informed about what's happening in their homes, and helping to make them safer, more efficient, and more reliable. Founded in 2013 by pioneers in speech recognition, Sense uses machine learning technology to provide real-time insights on device behavior, even for those devices that are not "smart." Customers rely on Sense for a wide range of uses including checking what time their kids get home, monitoring their home appliances, determining whether they left appliances running or doors open and identifying how to reduce their energy costs. Sense is headquartered in Cambridge, Mass. To make sense of your energy use, visit: https://sense.com.