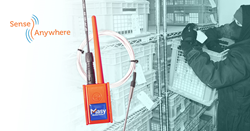 PEPPERELL, Mass. (PRWEB) December 03, 2020
SenseAnywhere, a fully automated, wireless temperature monitoring system, will be used to monitor the temperature conditions of the COVID-19 vaccines in Europe in storage and transport. To monitor the conditions, SenseAnywhere will use its AiroSensors in combination with the PT100 smart probes ensuring safe distribution across Europe. Masy BioServices is proud to be the exclusive North American distributor of SenseAnywhere temperature monitoring system.
To learn more, visit our website http://www.masy.com/senseanywhere, call 978-433-6279, or email sales@masy.com to talk with a SenseAnywhere expert.
SenseAnywhere is the ideal monitoring system for all temperature conditions required for vaccine transport and storage. View your data through SenseAnywhere's graphical interface from your computer or smart device 24-7, or use the API (Application Programming Interface) to integrate with your application. A 'Plug and Play' solution, SenseAnywhere's calibrated loggers are simple to set up and offered at an affordable price point, while providing an impressive accuracy of +/- 0.1˚C.
About SenseAnywhere
SenseAnywhere manufactures very accurate, easy to use and long-lasting dataloggers, enabling fully automated temperature monitoring during storage or transport of temperature-sensitive products. The monitoring and mapping solutions are being used in all kinds of industries, among which are Food, Pharma and Logistics, all over the world.
About Masy BioServices
Masy BioServices has provided quality solutions to the life sciences community for over 35 years through an array of services, including calibration of primary standards and critical test equipment; validation and IQ/OQ/PQ of environmental chambers, autoclaves, and thermal warehouse mapping; and lab equipment rentals and sales. Masy has a premier cGMP biorepository, offering secure and tightly controlled temperature storage from -196˚C to 70˚C, including all ICH stability conditions, for various materials including vaccines, biopharmaceuticals, cell banks, tissues, compounds, and medical devices.
Follow us on LinkedIn - Masy BioServices
Press Contact:
Kristine LeBlanc
Senior Marketing Manager
Masy BioServices
Kristine.LeBlanc@masy.com
978-433-6279 x 1458