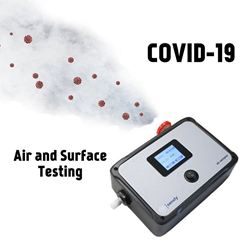 "Using our 20 years of experience developing innovative methods and instrumentation for environmental testing, our scientists and engineers set out to bring this to market in record time by shifting our resources and adopting existing technologies to this new application."
SOLON, Ohio (PRWEB) August 31, 2020
Sensfy LLC announced today the launch of a product line to test air and surfaces for SARS-CoV-2. With its all-inclusive Air and Surface Testing Kits that do not require any special skills, training, or experience, the Company's goal is to make testing simple, fast, and widely available. Sensfy also offers a laboratory using the latest technology to ensure accuracy and expedited turnaround times.
For air testing, place the Sensfy Air Sampler in an area where people congregate such as a classroom, office, or locker room, power on and press start. The testing method is based on substantial precedent and has been successfully used for detection of SARS-CoV-2 as well as other viruses by collecting aerosols on a sterile PTFE filter. After sampling is complete, remove the filter, and ship it overnight to the Sensfy Laboratory in the included prepaid and self-addressed sample return box. Results are available as soon as the next business day, depending on the desired turnaround preference.
For surface testing, the procedures are based on WHO guidelines that entail passing a swab across one or multiple surfaces, then placing in a Viral Transport Medium (VTM) vial and shipping overnight to the Laboratory. Detailed instructions come with every kit, and instructional videos are available on the website.
Sensfy analyzes environmental samples via real-time reverse transcription polymerase chain reaction (RT-PCR), the most reliable method recommended by the CDC. Targeted portions of the SARS-CoV-2 RNA sequence are copied as complementary DNA, then amplified and measured using fluorescence.
"We saw a need in our own workplace for a way to detect possible exposure to the virus so that we could take appropriate action, if needed, to avoid additional spread. At the same time, it gives us some peace of mind when the results come back negative," said Mike Neyman, founder of Sensfy. "Using our 20 years of experience developing innovative methods and instrumentation for environmental testing, our scientists and engineers set out to bring this to market in record time by shifting our resources and adopting existing technologies to this new application."
Sensfy Air and Surface Testing Kits can be used in any indoor space, but are especially helpful for schools, daycare centers, locker rooms, assisted living, long-term care and rehabilitation facilities, office buildings, and manufacturing facilities.
About Sensfy: Sensfy was formed as a spinoff from a larger environmental testing company to fully focus its attention on providing SARS-CoV-2 (COVID-19) air and surface testing products and services. Our experts have taken their decades-long experience designing and manufacturing testing instruments and operating a NELAP-Accredited laboratory to address today's most critical challenges.