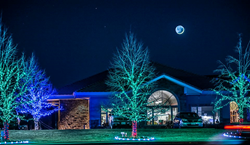 KENNEWICK, Wash. (PRWEB) November 23, 2018
The Open House events will be held Friday, December 7th from 6-9 pm as well as Saturday, December 8th from 5-9 pm.
The annual light show held at Senske headquarters, located at 400 N. Quay, Kennewick, consists of more than 500,000 holiday lights in an animated display. The show will run throughout the month of December, which means that people who cannot attend the Open House can still drive by, park, watch and listen to the show.
During the Open House food and cash donations will be accepted to benefit 2nd Harvest. Santa will be available for holiday photos with every donation received. Additionally, Barracuda Coffee Co., Brothers Cheese Steaks and Between the Buns will be on hand to provide refreshments with proceeds going to 2nd Harvest. Pavement Service Control has generously donated large reader boards to assist with traffic flow.
Each year this event raises enough cash and food to provide over 3000 meals for local families.
About Senske Services:
Senske Services is a leading lawn, tree and pest control service provider that is locally owned and operated, with its corporate office based in Kennewick, Washington. It has been a trusted source of lawn, tree and pest control services since 1947 across Washington, Idaho, and Utah, as well as pest control in Las Vegas, Nevada. To see what Senske can do for you, visit http://www.senske.com.