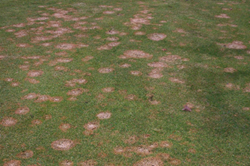 KENNEWICK, Wash. (PRWEB) March 08, 2019
During the month of February, areas in the Pacific Northwest experienced near record-breaking or record-breaking amounts of snowfall. To make matters worse, temperatures in the region hovered right around freezing, which prevented significant melting efforts.
Temperatures are beginning to rise above freezing and as the snow melts, we anticipate seeing widespread occurrences of snow mold. Extended periods of snow cover provide the perfect environment for snow mold. Snow molds are fungal diseases that impact cool-season grasses and are characterized by the presence of small straw colored or pink colored circular patches of matted turf. As fungal growth progresses, the patches may reach 6 to 12 inches in diameter.
There are steps homeowners can take to limit snow mold development. Standing snow piles should be spread to encourage melting and lawns should be raked if turf is suspected to be infected with mold. Lastly, Joe Aills, Senske Services Yakima Branch Manager says, homeowners can perform early season aerations which in turn will enhance air movement and decrease the opportunity for fungal success.
About Senske Services:
Senske Services is a leading lawn, tree and pest control service provider that is locally owned and operated, with its corporate office based in Kennewick, Washington. It has been a trusted source of lawn, tree and pest control services since 1947 across Washington, Idaho, and Utah, as well as pest control in Las Vegas, Nevada. To see what Senske can do for you, visit http://www.senske.com.