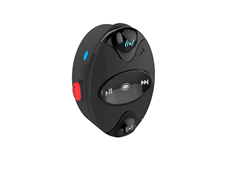 OtoZen Pod helps users avoid distractions, and alerts others about a driver's location and ETA without giving up privacy or convenience
SAN JOSE, Calif. (PRWEB) November 02, 2021
Tech's answer to protecting teen drivers has thus far meant deploying spy technology to monitor them. It's been an abject failure with little to no impact on teen driving fatalities and accidents.
Today Sensovium launched OtoZen Pod, a device that ushers in a new paradigm for protecting teen drivers, helps users avoid distractions, and alerts others about a driver's location and ETA without giving up privacy or convenience.
Otozen Pod is a compact and wireless Bluetooth device for vehicles of any age, make and model, providing an affordable upgrade to the latest car-tech capabilities available on the market, for any driver. It is available for $99 USD on the company's website at otozen.com and comes with lifetime access to the companion app.
"The general public is well aware of the dangers of distracted driving, which accounts for 80% of all car accidents and 16% of highway deaths," said CEO Krishna Kalidindi. "And, while all drivers need to be vigilant while driving, the highest age group at risk of motor vehicle crashes is teens aged 16-19. For decades, companies have tried to create tools to address this problem, but adoption has been slow since most technology operates as 'Big Brother' on behalf of parents, depriving teens of privacy. In designing OtoZen Pod, we wanted to protect teen drivers, while giving them complete control over when and how they share their location with the ability to go 'invisible' any time."
OtoZen Pod has been ergonomically designed with easy, intuitive buttons for safe operation and connects to car speakers via Bluetooth. The device is easily strapped on to a steering wheel or clipped to a vehicle's console.
Pod makes certain phone features unavailable while the vehicle is moving, preventing phone usage and blocking buzzes and beeps. Parents of new drivers will be reassured by features like a drive score to help teens build good habits at the wheel, emergency assistance options and the ability to get notifications about a driver's location and ETA without the driver having to send texts and answer calls.
While OtoZen is ideal for teens it offers safety and productivity for drivers of any age. Popular features include audio alerts based on location and calendar events, and hands free access to Alexa and other voice assistants. Optional upgrades include adding a driver to an existing pod (up to four drivers can share a pod), hands-free meeting joiner, and the ability to store all trip history. Battery life is three years. The app is available for download on the App Store (iOS 12 and later) and Google Play (Android 6 and later).
Media wishing to interview OtoZen personnel should contact PR agent Borjana Slipicevic at borjana@properpropaganda.net.