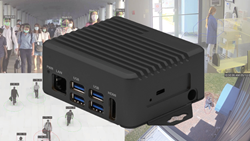 "Senstar Safe Spaces allows businesses to effectively monitor their premises, receive alerts when protocols are not followed, and ultimately operate safely."
OTTAWA, Canada (PRWEB) November 18, 2020
Senstar, a world leader in video management software and perimeter intrusion detection products is pleased to introduce the Senstar Safe Spaces video analytics solution. Consisting of a simple, compact appliance – the Senstar Edge Platform – and preloaded with Face Mask Detection, Physical Distance Monitoring, Occupancy Monitoring, and Hand Sanitization Monitoring video analytics, Senstar Safe Spaces can be easily integrated into an existing video system or deployed on its own.
"While there are many new tools to help businesses monitor compliance with aspects of the evolving COVID-19 health and safety protocols, Senstar has taken the unique approach of providing a complete solution operating on an single, affordable, easy-to-use device with embedded analytics," said Senstar Chief Operating Officer Jeremy Weese. "Senstar Safe Spaces allows businesses to effectively monitor their premises, receive alerts when protocols are not followed, and ultimately operate safely."
The Senstar Edge Platform's compact, fanless design allows it to be installed virtually anywhere. The device works with any camera or video encoder that supports ONVIF and alerts may be sent to any video management software that supports ONVIF alerts. As a standalone system, alerts can be directed to mobile devices for convenient notification. Local announcements can also be made via pre-recorded messages over IP speakers.
Video analytics can be run in a variety of combinations to detect if individuals are wearing a mask, measure the physical distance between people over time, monitor hand washing and sanitization stations to ensure proper hygiene is being practiced, and/or count people entering and exiting to ensure occupancy limits are not exceeded.
Senstar Safe Spaces has been developed using the latest innovations and benefits from Senstar's nearly 20 years of video analytics experience.
Learn more about Senstar Safe Spaces.
Watch the Senstar Safe Spaces video.
Visit Senstar on LinkedIN.
About Senstar Corporation
With intelligent video management, video analytics, access control, and innovative perimeter intrusion detection systems (including fence sensors, buried sensors, and above ground sensors), Senstar offers a comprehensive suite of proven, integrated technologies that reduce complexity, improve performance and unify support. For nearly 40 years, Senstar has been safeguarding people, places and property in the corrections, critical infrastructure, military, manufacturing and logistics, transportation, oil and gas, and retail markets.