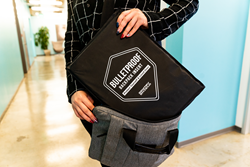 "Even something as small as SentryShield has the potential to make a very big difference in a tragic event."
SOUTH BEND, Ind. (PRWEB) August 27, 2018
SentryShield®, maker of personal tactical protection, today introduces its signature bulletproof backpack insert. Available in two sizes (backpack and handbag), the SentryShield insert is engineered with 24 layers of ultra-high molecular-weight polyethylene (UHMWPE) to be NIJ Level IIIA compliant and is capable of stopping a variety of ammunition to provide an additional measure of safety during a shooting.
Designed to be travel friendly, the SentryShield is easily concealed and carried in backpacks, laptop bags and other personal belongings. Despite being eight times stronger than steel, SentryShield contains no metal and won't set off metal detectors in schools, airports or other secure locations.
"We live in difficult times," says the brand. "But ignoring the reality of those times won't make us any safer. We believe that any measure of protection you can provide yourself or loved ones is a worthy investment, especially one that is always with you as opposed to an afterthought."
The backpack (16.25 by 11.75 inches) and handbag (14 by 10 inches) versions are both only 10 millimeters thick, and weigh only 1.46 and 1.74 pounds respectively, making them practically unnoticeable for students and travelers.
But despite their light weight and slim design, these NIJ Level III-A anti-ballistic inserts are capable of stopping a variety of rounds including 9-millimeter FMJ rounds, .44 Magnum bullets, .357 SIG ammunition and 12-gauge slugs thanks to the cross-layered UHMWPE and high-density foam trauma pad.
"Nothing can offer a guarantee in a tragic situation like one involving an active shooter, but even something as small as SentryShield has the potential to make a very big difference," the brand says.
The SentryShield retails for $120 and is available now at SentryShieldUSA.com for an introductory price of $89.99. A second SentryShield is available for 50 percent off when purchasing one at full price and entering code Protect50 at checkout for a limited time.
SENTRYSHIELD MEDIA KIT + HIGH-RES PHOTOS
FEATURES + SPECS

NIJ Level III-A Compliant
Crafted from 24 layers of cross-woven UHMWP and high-density foam trauma pad
Durable nylon sleeve
Available in two sizes: Backpack (16.25" x 11.75") and Handbag (14" x 10")
Ultra-thin 10-mm design
Lightweight: (24oz and 28oz)
Travel friendly
Won't set off metal detectors
GET SOCIAL: @SentryShieldUSA
ABOUT SENTRYSHIELD
Engineered to stand between you and tragic situations, SentryShield® offers protection and peace of mind that's always with you. Protect what matters most with the SentryShield Level IIIA Bulletproof Backpack Insert. We've got the backs of those who have your heart.
Media Inquiries: Don Stefanovich | DonS@Zake.com