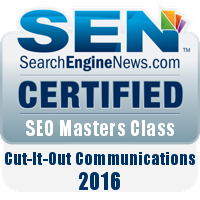 Hartsdale, New York (PRWEB) February 28, 2016
Cut-It-Out Communications (https://www.cioediting.com), a full-service Westchester public relations agency, today announced its President, Willy Gissen, has been certified after completing Masters in SEO training from Planet Ocean Communications, publishers of Search Engine News since 1997.
The Masters in SEO course, taught by Casey Markee and John Heard, covered the latest updates to the Google algorithm, inbound links and on-page optimization. Advanced topics included the use of structured data, improving page speed, Google search operators, mobile sites and responsive design. The course culminated with live audits of five participants' websites.
Willy Gissen, President of Cut-It-Out Communications, said, "Search Engine News is the Harvard of SEO and has offered its readers the latest developments since the dawn of the Internet. The content it provides on a monthly basis is always well vetted, reliable and one step ahead of the competition. It is an honor to receive an advanced certification from them."
Mr. Gissen continued by noting Search Engine News only awarded the degree after a comprehensive final exam including both multiple choice and essay-style questions. He also praised the wide variety of tools and techniques imparted in the lectures.
The course covered both static html websites and dynamic WordPress sites. The use of responsive design to integrate desktop and mobile devices with only one site was highly recommended.
For more information, please email wgissen(at)cutitoutcommunications.com, call 914-723-7212 or visit https://www.cioediting.com. Cut-It-Out also maintains a daily blog on political communications at https://www.cioediting.com/blog.
About Cut-It-Out Communications
Willy Gissen founded Cut-It-Out Communications, a full-service Westchester public relations agency, in 2003. The firm specializes in online activities such as corporate blogs, email newsletters, content marketing and search engine optimization.
A Harvard graduate, Mr. Gissen offers more than 15 years of communications experience and is certified in advanced search engine marketing. He has been published in national industry trade publications such as PR Daily and wrote a monthly column on public relations and marketing for the Westchester County Business Journal.