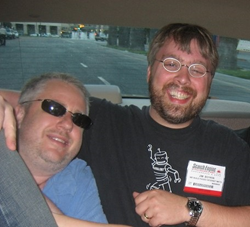 "Detlef is a technical SEO powerhouse as well as just a darn good guy...He's a great addition to our team," said Boykin.
CLIFTON PARK, N.Y. (PRWEB) December 19, 2020
Detlef Johnson, an SEO industry pioneer and columnist for Search Engine Land, has joined the staff of Internet Marketing Ninjas (IMN), a full-service online marketing company based in upstate New York.
Johnson, a renowned expert in technical SEO, who is also a member of the programming team of the annual SMX conference series, will serve IMN in multiple roles, including as a technical SEO ninja, programming ninja, design ninja, and special projects ninja.
"I've been in business for over 21 years, and Detlef was a legend already when I started," said Jim Boykin, IMN's founder and CEO. "The cool thing is that to this day, he's still contributing so much to the SEO community. I'm very excited to put Detlef's technical SEO skill to use for our clients and on some of our own projects that we're working on."
For his part, Johnson is eager to be a part of Boykin's staff. "I've known Jim from the early days in the SEO business," Johnson said. "We met doing conference sessions together several times, and I very much look forward to working with him now that I'm the latest ninja on his team."
Johnson has extensive experience with digital strategy as well as in-depth knowledge of Ruby on Rails, HTML5, JavaScript, and PHP. He has done consulting work for numerous Fortune 500 companies and previously managed digital marketing implementation and web development for dozens of Tribune Publishing properties. "Detlef is a technical SEO powerhouse as well as just a darn good guy," Boykin said. "He's a great addition to our team."
Internet Marketing Ninjas, founded in 1999, is a leading search marketing company with expertise in link-building, content creation and optimization, brand asset development, website analysis, and social media marketing. Drawing on more than 300 years of collective experience and a suite of innovative, proprietary SEO tools, IMN's mission is to boost search engine visibility and increase relevant traffic for each client using the most advanced and ethical methods possible.