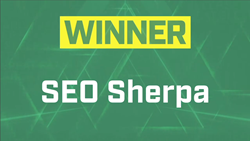 We were really compelled by the company's empathy for their staff and clients.
DUBAI, United Arab Emirates (PRWEB) December 17, 2020
SEO Sherpa, a leading SEO agency in Dubai, was announced as the winner of the prestigious Best Large SEO Agency at the MENA 2020 Search Awards. Alongside this achievement, the judges also awarded SEO Sherpa winner of the Best Use of Search – Retail/E-Commerce (SEO), Best Use of Search – B2B, Best Use of Search – Health, Best Use of Search – Automotive, and Best Local Campaign categories.
Recognized as the premier search awards in the Middle East and North Africa, The MENA Search Awards, presented by We Are Search and Don't Panic, is a celebration of the very best SEO, PPC, and content marketing campaigns, honoring search marketing agencies who set industry benchmarks for excellence.
Due to the ongoing pandemic crisis, this year's much-anticipated MENA Search Awards abstained from a physical awards ceremony, opting instead for a virtual event. The shortlisted nominees and winning recipients were honored via live stream on Wednesday, December 9, 2020.
The winners of the MENA Search Awards were selected by an esteemed panel of judges, comprising of industry leaders and experts, including Kevin Gibbons, CEO at RE:signal, Olga Andrienko, Head of Global Marketing at SEMrush, Judith Lewis, Founder at Decabbit Consultancy, Akvile Pareigyte, Head of Digital Consulting at Voltlab to name a few.
A great variety of search and digital marketing agencies from all over the MENA region were represented at this year's awards. The diversity displayed – both in terms of search marketing expertise and working sphere – demonstrated fantastically how search marketing specilaits re-imagined their business models for their clients amidst a global pandemic while continuing to deliver superior customer experiences.
SEO Sherpa was praised for its innovative and creative approach to achieving client success despite an increasingly challenging business climate.
"The overall presentation of this entry was very impressive. And as judges, we were really compelled by the company's empathy for their staff and clients, "Judith Lewis, panel judge at the MENA Search Awards and Founder of Decabbit Consultancy. "Focusing on how they helped customers and employees during COVID really won us over… Especially with their complimentary audits and other free elements for their clients. They really care, and they showed that in their entry."
This year's six awards continue SEO Sherpa's drive for excellence, having won four awards in last year's MENA Search Awards. "The quality of our work has gotten better and better each year and this is shown in the number of categories we've won. It's extremely fulfilling to see the team's work recognized by not only our clients, but our industry peers too. We entered four case studies in 2020 and each won an award," says James Reynolds, Founder and Head Sherpa at SEO Sherpa, in a prepared statement.
Since its founding in 2012, SEO Sherpa has committed to developing smart organic SEO services for their customers. Despite the unprecedented impact of COVID-19, SEO Sherpa continued to discover key search marketing opportunities, enabling clients to experience real-world, bottom-line value and commercial success.
Details about The MENA 2020 Search Awards, the complete list of shortlisted nominees, award winners, and panel judges are available at https://menasearchawards.com/
To learn more about SEO Sherpa and its services, get in touch: https://seosherpa.com/contact-us/
About SEO Sherpa
SEO Sherpa is the organic SEO service that helps companies like Aramex, Harper's Bazaar and Guinness World Records win more customers by getting them found first in Google search. From fast growth start-ups to world-leading brands, SEO Sherpa has been committed to helping businesses generate more traffic, leads, customers, and climb the ranks in Google.
About MENA Search Awards
The MENA Search Awards celebrate the expertise, talent and achievements of the search industry. It is regarded as the premier celebration of SEO, PPC and content marketing in the Middle East & North Africa. The awards are also open to those based elsewhere around the globe who are delivering work for the MENA market.
End.
For further information, please contact:
Karl Tablante
karl@veravo.com