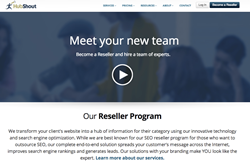 Now, HubShout can help SEO resellers' clients get involved in the news cycle with Business Quote and Featured News, two new components of our SEO plans.
Falls Church, VA (PRWEB) February 19, 2014
HubShout, a US-based SEO reseller, online marketing firm, and website reseller, unveiled its new SEO plans on February 1, 2014. The new plans up the workload for the HubShout team; SEO resellers, however, will not see a price increase.
Web audiences demand compelling content and for a business to get online attention, there is nothing better than inclusion in a relevant industry news story. Though considerable time and effort is required to place clients in relevant news stories, HubShout is up to the task.
Chad Hill, HubShout CEO said, "Our hard-working team will do what it takes to conform every campaign to today's news-driven SEO environment. Now, HubShout can help SEO resellers' clients get involved in the news cycle with Business Quote and Featured News, two new components of our SEO plans."
In 2013, HubShout began the transition to the more news-oriented approach by expanding and strengthening its research team and recruiting a team of premium writers. To ensure delivery of the highest quality articles and other content, a dedicated writer was assigned to most SEO campaigns. The introduction of press releases, business interviews, videos and infographics into the plans cultivated diversity for the SEO reseller program, helping to sustain clients' rankings. Promotion of clients' high quality content on social media raised brand awareness, facilitated interaction with customers and prospects and helped draw website traffic. The 2013 SEO plan modifications combined with the features introduced in 2014 mark a turning point for HubShout's SEO reseller program. In a departure from traditional SEO that tends to be based on writing about evergreen topics, HubShout is now assertive in its mission to place its SEO resellers' clients in trending news stories, particularly with two new SEO plan components:
Featured News - This technique takes advantage of timely news stories that have high audience value because many people are searching for them. HubShout writes a featured news story and publishes it as quickly as possible so it has a high likelihood of being found and linked to during the news cycle. The news story links to a well-researched blog, article, infographic or any appropriate content on the client's website.
Business Quote - This is also a news oriented placement, but in this case, the client is asked to comment on an industry-related trending news item. The client's quote is included in a story on a website that is covering the breaking news and the publisher provides a link to relevant content on the client's website.
HubShout's SEO Reseller program is comprehensive in promoting a business online with high quality content such as videos, infographics, press releases, and now news-oriented content. SEO resellers may contact HubShout to request Featured News and Business Quote case studies.
Co-founded in 2008 by Chad Hill, CEO, and Adam Stetzer, Ph.D, President, HubShout is a US-based SEO reseller, website reseller, and online marketing firm with offices located in Rochester, NY and Falls Church, VA. Online marketing services include SEO, local SEO, website design and development, PPC, email marketing, social media management, and custom online marketing plans. For more information about HubShout's reseller programs and online marketing services, please contact HubShout directly.