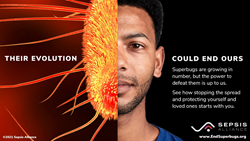 SAN DIEGO (PRWEB) March 29, 2021
Sepsis Alliance, the nation's first and leading sepsis non-profit organization, today announced the launch of POWER the AMRevolution, a national initiative to create broader awareness of antimicrobial resistance (AMR), the threat it poses to global public health, and the simple steps people can take to help end superbugs. Antimicrobial resistance leads to an estimated 700,000 deaths per year around the world, and this number is projected to reach ten million annually by 2050.
Antimicrobials are a group of medicines used to treat infections; they include antibiotics, antivirals, antifungals, and medicines used to fight infections caused by parasites. Antimicrobial resistance (AMR) develops when the bacteria, viruses, fungi, and parasites that make people sick evolve over time and eventually stop responding to the medicines used to treat them. These drug-resistant germs are often called superbugs. Infections caused by superbugs can be difficult, and sometimes impossible, to treat. According to the CDC, a person dies every 15 minutes in the U.S. from a drug-resistant infection.
As part of the POWER the AMRevolution initiative, Sepsis Alliance fielded a global survey to assess understanding of antimicrobial resistance around the world. According to the survey results, nearly 50 percent of adults are unaware of the term "antimicrobial resistance." In the U.S., there are also notable disparities in awareness and understanding of AMR between racial/ethnic groups and income levels, with Black adults and those with incomes lower than $50,000 less likely to be aware of AMR than others.
"There is no doubt that AMR poses a significant global public health threat, and yet many are unaware of it and of the dire consequences that could result," says Cindy Hou, DO, infectious disease specialist and Infection Control Officer at Jefferson Health New Jersey, and a Sepsis Alliance Board Member. "As superbugs grow in strength, we need to bring attention to this critical issue in order to save more lives. As we've seen with the COVID-19 pandemic, a global health crisis requires a global response, and we're proud to do our part in educating and empowering individuals with the knowledge they need to help stop the spread of superbugs."
Sepsis is one of the biggest health risks related to antimicrobial resistance. Sepsis is the body's overwhelming and life-threatening response to infection, which can lead to tissue damage, organ failure, amputations, and death. In the United States, 1.7 million people are affected by sepsis and 270,000 people die from sepsis every year. Globally, sepsis takes 11 million lives around the world each year, contributing to 20% of all deaths globally and taking more lives than cancer. As superbugs continue to develop resistance to more classes of antibiotics, medical procedures like cesarean sections (C-sections), hip replacements, chemotherapy, organ transplants, and even routine visits to the dentist will carry a greater risk of infection – and a greater risk of sepsis.
Patient advocate Jillian Thibault knows firsthand the dangers that can arise when antimicrobials stop working. Diagnosed several years ago with gastroparesis, a severe medical condition affecting her digestive functions, Jillian relies on daily infusions of intravenous nutrition and a central venous access point that is prone to infection. Infection and sepsis has brought Jillian to the hospital numerous times, requiring the use of antibiotics. In some cases, her body has produced drug-resistant bacteria, that do not respond to broad-spectrum antibiotics.
"Though my condition is unique, in some ways I feel like I am an example of what life could be like for many people if AMR continues to spread and superbugs grow in number," says Jillian. "It can be easy to take for granted the medicines that we rely on to fight infections – until they stop working. Then things can get very scary, very fast. I hope more people will learn about the dangers of AMR and feel empowered to take steps now to end superbugs and protect our future health."
Sepsis Alliance, in partnership with Spectrum Science, developed the POWER the AMRevolution educational campaign in response to this lack of knowledge around antimicrobial resistance, a near and present danger to all people. The educational campaign materials are available for download on the organization's website. People are encouraged to take the POWER back from superbugs with these steps:
P - Practice good hygiene and get vaccinated
O - Only take antibiotics as prescribed
W - Watch out for those most vulnerable
E - Educate others on the risks of AMR
R - Remain vigilant to avoid the risk of infection
Funding for the global survey and the national campaign was provided by an independent medical research grant from Pfizer.
To learn more about the dangers of antimicrobial resistance, sepsis, and the steps that can help end superbugs, visit http://www.endsuperbugs.org.
About Sepsis Alliance:
Sepsis Alliance is the first and leading sepsis organization in the U.S., working to save lives and reduce suffering by improving sepsis awareness and care. Sepsis.org, the organization's website, serves the needs of more than 2.5 million visitors each year. In 2011, Sepsis Alliance designated September as Sepsis Awareness Month to bring healthcare professionals and community members together in the fight against sepsis. The organization's Clinical Community and Sepsis Alliance Institute have provided training to more than 30,000 health providers across the country. Sepsis Alliance gives a voice to the millions of people who have been touched by sepsis – to the survivors, and the friends and family members of those who have survived or who have died. Since 2003, sepsis awareness in the U.S. has risen from 19% to 71%. Sepsis Alliance is a GuideStar Platinum Rated charity. For more information, please visit http://www.sepsis.org. Connect with us on Facebook, Twitter, Instagram, and Linkedin at @SepsisAlliance.
References:
Review on Antimicrobial Resistance. 2016. Antimicrobial resistance: tackling a crisis for the health and wealth of nations. https://amr-review.org/sites/default/files/AMR%20Review%20Paper%20-%20Tackling%20a%20crisis%20for%20the%20health%20and%20wealth%20of%20nations_1.pdf
Sepsis Alliance, Global Perception of Antimicrobial Resistance (AMR) (March 2021)
CDC_More People in the United States Dying from Antibiotic-Resistant Infections than Previously Estimated_Press release_11-13-19; CDC_About Antibiotic Resistance/p1 URL: https://www.cdc.gov/drugresistance/about.html#anchor_1581367545621
Rhee, C., et al. Incidence and Trends of Sepsis in US Hospitals Using Clinical vs Claims Data, 2009-2014. JAMA. 2017 Oct 3;318(13):1241-1249. doi: 10.1001/jama.2017.13836.