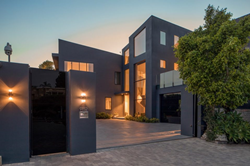 Where Real Estate Is Never Boring!
POMPANO BEACH, Fla. (PRWEB) September 30, 2020
"September's Top 10 Celebrity Real Estate News"
Also: Video Tours Now Available at Celebrity Home Video Tours
"John Legend & Chrissy Teigen's Home with the Purple Piano"
John Legend and his model-turned-cookbook-author wife, Chrissy Teigen, have been everywhere lately making a huge splash between recording songs for John such as his new "Wild" and Chrissy's cookbooks and associated engagements. Their Beverly Hills home is for sale for $23.95 million which includes seven bedrooms, 33-foot ceilings and a purple grand piano.
"Doris Day's Picture-Perfect Carmel Home"
One of the last of the Old Hollywood stars, Doris Day's Carmel, California home is for sale at $7.4 million and is "going to the dogs." Home features include a cattery and a dog-care section with its own kitchen. Also a guest house, two offices and two caretaker units. Proceeds from the sale of the 12,400-square-foot home, where Day lived from 1980 until her 2019 death, will go to Day's animal shelter she established in 1978.
"Jen & Brad's Honeymoon Mansion Sold"
The Beverly Hills mansion that Jennifer Aniston and Brad Pitt bought soon after they were married in 2000 and sold one year after their divorce in 2005 was just sold again by its new owner for $32.5 million - more than double what Aniston and Pitt originally paid for it. The 11,173-square-foot home, originally built in 1934 for two-time, Oscar-winning actor Fredric March as one of the first movie star mansions in Beverly Hills, came on the market last year listed at $56 million.
"Jeff Bezos Buys Little House Next Door"
Jeff Bezos paid $10 million for the three-bedroom home next door to his 10-acre Beverly Hills estate he bought in early 2020 from David Geffen for $165 million. No news on what the Amazon CEO plans to do with his new home.
"Justin Bieber's New $26 Million LA Mansion"
Less than two years after buying a home in Beverly Hills for $8.5 million, Justin Bieber and Hailey Baldwin have gone even bigger in the 90210 where they are the new owners of a $26 million, seven-bedroom home over 10,000 square feet on 2.5 acres.
"John & Yoko's Palm Beach Mansion Sold"
In 1980, John Lennon and Yoko Ono bought an oceanfront home in Palm Beach for $725,000. They only owned the house for six months, long enough to decide how they wanted to renovate it, before they had to return to New York. Unfortunately, it was the only time Lennon was able to enjoy it, as he was shot and killed outside his Dakota apartment building in New York City. Later after John's death, Yoko returned to Palm Beach to complete the renovations and sold it in 1986 for $3.15 million. The home was put on the market in May by its current owners for $47.5 million and already sold. The sale price has not yet been disclosed.
"Friendlier Price On Matthew Perry's LA Penthouse"
"Friends" actor Matthew Perry is one of Hollywood's prolific real estate investors, recently downsizing his holdings on the West Coast. His most opulent holding is his 40th-floor penthouse in the Century Tower which has recently had an impressive price drop. Purchased by Perry in 2017, it was originally listed last year at $35 million. It has now been relisted at $27 million.
"One More Time For Britney Spears' Mansion"
The Beverly Hills mansion that Britney Spears purchased in 2007 after her divorce from Kevin Federline and lived in until 2012 is on the market. Priced at $6.8 million, Bravo's "Million Dollar Listing" Matt and Josh Altman of Douglas Elliman Real Estate, Beverly Hills hold the listing.
"Joe & Sophie List NYC Apartment"
Joe Jonas and Sophie Turner have listed their New York City apartment for $5.9 million. They bought the three-bedroom apartment in 2018 for $5.6 million. The new parents are now living in Southern California.
"Diane Keaton Selling Tucson Redo"
Diane Keaton is one of a number of Hollywood celebrities including Ellen DeGeneres and Meg Ryan who collect and sell homes as a sideline. Diane was no stranger to building restoration as she had watched her father do the same for most of her childhood. Diane is asking $2.6 million for an Arizona home she recently renovated.
For more celebrity home news and celebrity home video tours, visit TopTenRealEstateDeals.com.