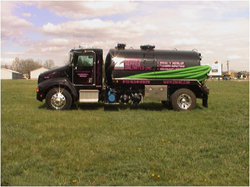 Family Run Business Serving Greater Illinois Since 1978
Will County, Illinois (PRWEB) November 24, 2014
Zeiter's Septics Tank Cleaning Rules
Rules: One residence/household customer e-mail allowed per month. One household winner per year. Drawing will be held the first of each month, with the winner being notified via phone or e-mail This drawing is good for a free septic tank cleaning (http://www.zeitersseptics.com/free-tank-cleaning.html) up to 1500 gallons in our service area. This does not include any Dig fees, and any other fees, if any that may be applicable.
Zeiter's Septics pumping equipment
Zeiter's Sterling vacuum truck has a Challenger Liquid cooled 600 cfm, and a 3600 gallon capacity tank. They also have a Kenworth with a Jurop 360 cfm pump and a 2300 gallon tank. These trucks are equipped with pressure wash down systems. Heated valves keep them going on even the coldest of winter days. They clean residential, commercial, and industrial septic tanks, holding tanks, manholes, and catch basins. Their drivers are provided with route tickets for each septic tank cleaning (http://www.zeitersseptics.com/illinois/will-county/) job. These tickets have a check list for items that are inspected, was the tank overfull, was the tank baffled, did effluent run back in from the septic field, were there any wet spots in the yard, etc. etc. If they find any problems they can then inform the customer.
Zeiter's Septics uses the Summit software program to log all pertinent information, tank size, location and to generate reminder notices, and maintenance scheduling. This allows them to keep accurate records for all of their customers. Including each and every time the system was serviced.
About Zeiters Septics
We have continued to evolve with the times and continue to offer entertaining ways for customers to save money on septic systems. We are open M-F from 7-4 with after hours service available.
Please check out our website for more information or give us a call.
Office hours: M-F 7-4 pm Saturday by appointment.
Zeiter's Septics Unlimited, Inc.
815-942-2829
info(at)zeitersseptics(dot)com
http://www.zeitersseptics.com
After hours: 815-600-8988