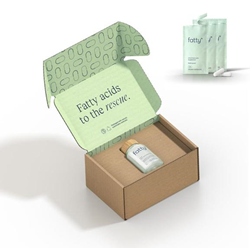 SAN DIEGO (PRWEB) September 07, 2021
Creators of innovative fatty acid supplement 'fatty15' and parent company Seraphina Therapeutics have published new guidance on saturated and unsaturated fatty acids. Their product, fatty15, provides users with the first essential fatty acid to be discovered in 90 years: C15:0, a beneficial odd-chain saturated fat. This guidance is meant to address the stigma around fats and provide insight into the health benefits of this important macronutrient.
During the late 1970s in America, heart disease was on the rise, leading to government guidelines advising Americans to avoid all fats. This led to the avoidance of full fat foods and an increase in low fat convenience foods, which carry higher levels of sugars, sodium, preservatives, and refined carbohydrates. Although well intended, this guidance resulted in the increased prevalence of conditions like obesity, metabolic syndrome, and diabetes.
Initially, evidence around the health benefits of polyunsaturated fatty acids, especially omega-3s, began to mount during the 1990s, including their role as essential fatty acids. Essential fatty acids are critical for maintaining baseline health, but bodies can't produce them on their own, meaning we need to get these essential fatty acids from our diets. As Seraphina Therapeutics goes on to explain, we not only need to know the difference between saturated and unsaturated fats, but also to be aware of some subgroups therein, to fully understand the concept.
Their daily supplement, fatty15, contains a pure powder and vegan-friendly form of a trace odd-chain saturated fatty acid called C15:0. Odd-chain saturated fatty acids, named so because they contain an odd number of carbon atoms, are saturated fats actually known to have positive health properties, and fatty15 is no exception. Research shows that fatty15 helps to reverse cellular aging by strengthening cellular membranes, repairing mitochondrial function, and naturally binding to receptors, called PPARs, which help cells to regulate metabolism, immunity, mood, appetite and sleep. As published in 'Scientific Reports', by protecting cellular health, fatty15 has demonstrated the ability to promote healthy metabolism, immunity, liver function, and red blood cells. If the common understanding of saturated fats continues to be that they are all bad, however, then people will continue to avoid the good kind of saturated fats, worsening global deficiencies of these important nutrients, leading to the potential for further worsening of our health.
With the goal of getting this discovery and innovative supplement to more people, fatty15 is now discounted from $149.95 to $119.95 for a 90-day Starter Kit subscription. The discovery of C15:0 as an essential fatty acid was made by a husband and wife team dedicated to improving global health. These doctors hope to change the paradigm on fats and saturated fats and in doing so, improve health on a global scale.
About Seraphina Therapeutics: Seraphina Therapeutics is a ground-breaking start-up founded by a team of leading doctors, scientists and entrepreneurs with decades of experience. This group came together to build fatty15, a supplement providing C15:0, what a growing body of science supports as the first essential saturated fatty acid to be discovered in 90 years. Fatty15 helps to protect our health, especially as we age, and is available today. More information is available at https://www.fatty15.com/.