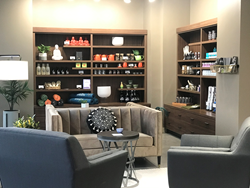 The communities of Fulshear and Katy, Texas have opened their arms to Serasana and welcomed our wellness services. Our wonderful team is just as passionate as the clients filling our space!
KATY, Texas (PRWEB) November 19, 2020
Serasana Katy will celebrate their Grand Opening with a Rope Cutting! Tours of the Tea Bar, Yoga Studio and Wellness Spa will be conducted along with Tea Samples and delicious snacks.
This wellness studio, owned by Cheryl and Florian Twardowski, features yoga, acupuncture, massage, tea and remedies and thoughtful retail to support the services offered. "I am so happy to be a part of the Fulshear Katy Area business community. We have been warmly welcomed in this growing neighborhood. Serasana is a unique business – there is nothing like it anywhere in the area and I feel that the community is eager to embrace the services that we offer. I have been fortunate to be able to hire passionate and skilled team members that share my desire to bring hope and healing to all of our clients."
The offerings at Serasana include:
Gentle Yoga, Restorative Yoga, Hatha Yoga, Yin Yoga and Flow Yoga Classes
Private Yoga and Workshops on Health and Wellness Topics
Private Acupuncture, Group Acupuncture, Cupping and Gua Sha
Focus Massage, Soothing Massage (for stress) and Therapeutic Massage (for pain)
Full Service Tea Bar with loose leaf tea and kombucha
Specialty Tea Drinks
Tea Education and Tastings
Serasana Katy is part of the Serasana® family and is the only location of this new franchise in the Houston area of Texas. The brand was created by Patti McCormick and her husband Bill Gilliland. Patti has been an acupuncturist and yoga instructor for over 25 years; Bill is a seasoned builder and real estate developer. The couple decided to leverage their knowledge and experience to bring this unique fusion of services and products in one beautiful space.
Specializing in stress and pain management, Serasana® blends the ancient practices of acupuncture, cupping, gua sha, yoga, massage, skincare, workshops and healing remedies to create communities of hope and healing. Serasana® prides itself on serving all walks of life regardless of age, sizes, ability or background which makes the healing power of these ancient practices readily available to all.