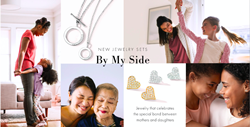 The capsule is a celebration of women and their strength, of their courage and perseverance. And of course of the tremendous power of mothers to mold and inspire their daughters not just with fashion and style, but with determination, poise and power.
NEW YORK (PRWEB) November 20, 2020
Tennis icon, fashion designer and mom, Serena Williams, is thrilled to present By My Side, a new capsule offering in her now-iconic jewelry collection.
By My Side is inspired by Serena and her daughter and that special bond between moms and daughters. It is a celebration of mothers' courage and perseverance.
"My heroes are moms because women are superheroes."
And of course, of a mother's power to mold and inspire her daughter at any age — with style, determination and strength.
"Being a mom is super important, but also being a leader so my daughter can look at me and say, 'This is what my mom did, I aspire to do that, and I want to be better… it's really important to me to inspire the next generation because that's what the future is."
Each set tells the story of a love that's like no other. And importantly, each piece of sparkling diamond jewelry is a way to keep close even when mama's "little one" isn't nearby.
"We keep going, I am so proud and inspired by the women who do it day in and day out. I'm proud to be this baby's mama."
The collection also features a pair of "Queen" necklaces, heart-shaped pendants and earrings, a diamond lock and key, and Serena's iconic "Unstoppable" toggle necklace matched with a mini version.
The By My Side collection is available on serenawilliamsjewelry.com.
Price range: $85- $875
HI-RES IMAGERY HERE
http://www.serenawilliamsjewelry.com
Serena Williams Jewelry Affiliate Partnership through Pepperjam: PID # 9589
For more information please contact ATELIER Creative Services, Inc.: paul@atelierpr.com