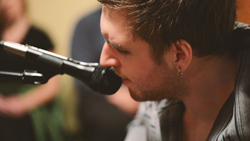 Music therapy has helped me break that boundary and realize that I can do things sober, and enjoy them with much more fulfillment than with any drug.
Marne, Michigan (PRWEB) June 07, 2016
Anybody who is considering seeking professional help from a substance abuse treatment center, whether personally or for someone they know who may need help with a drug or alcohol problem, can find some helpful information in a new video uploaded to the Serenity Recovery YouTube channel. Serenity Recovery is a holistic treatment center for substance abuse that is located in Central Michigan, and offers a unique program designed to be adaptable to the needs of any individual through a variety of treatment options and supplemental programs. This video focuses on Music Exploration, just one of those options, and the benefit that it can provide in recovery from addiction.
"Our rehabilitation program is based on the understanding that every patient that we see in our treatment center is different from the next," commented Serenity Recovery founder Per Wickstrom. "In my own history of battling addiction, I went to several treatment centers before I found a program that worked for me. Because of that experience, I understood that different modalities of treatment would be effective for different people. By offering several options, we help our patients find the recovery strategy that will best suit their individual needs. The Music Exploration group is just one of those options."
Justin Black is the new Music Exploration facilitator, and has taken the group and completely reworked it. He focuses on the personal connections that people make with each other while listening to, writing, or performing music. He also helps the patients who participate in his group see and understand how positive self-expression and learning how to cope with stress and negative emotions in a constructive way is vital to their recovery from addiction.
"People, a lot of times, look for a place to fit in," Justin explains. "I basically make the music class a place where everybody can be safe in a judgment-free zone. Everyone likes music, and that's a place where we can all be together."
Serenity Rehab Music Exploration Class
Personal expression takes many forms in the Music Exploration class. Some patients may appreciate the performance aspect more, finding their creative outlet in singing or playing an instrument. Others may discover a passion for the creative side, such as songwriting or composing. And there are other patients who will prefer an interpretive view, expressing what a musical piece might be making them feel through dance or light shows.
"When I was younger, I used to do drugs and go to raves, and that's where I started spinning lights," says Serenity patient and Music Exploration participant Jake A. "I realized that you don't need drugs to enjoy music. It's helped me make a different connection to music. Music therapy has helped me break that boundary and realize that I can do things sober, and enjoy them with much more fulfillment than with any drug."
Serenity Recovery takes a unique approach to substance abuse treatment. With various options, such as the Music Exploration group, their patients are encouraged to explore the different avenues of recovery in order to find the rehabilitation strategy that will be most effective for them, rather than offering a standard "cookie-cutter" program for every patient to go through. In addition, progress through the program is based on results instead of any set timeframe. This enables them to fully process all of the information, concepts, and principles of their recovery program, and creates a sense of confidence in their sobriety.
Please read the blog at:
http://www.serenityrehab.org/blog/music/benefits-creative- expression-recovery/
See our video here: https://youtu.be/UQWgIOSXQbg