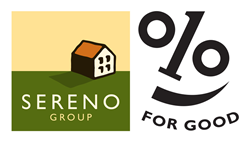 "The sheer determination to leverage our business for good has grown to nearly $600,000 in annual donations. We are beyond pleased to formalize our 1% for Good partnership with both the Los Altos Community Foundation and Community Foundation Santa Cruz County." Chris Trapani, CEO + Founder
LOS GATOS, Calif. (PRWEB) August 20, 2019
Sereno Group is proud to announce its latest charitable community-driven creation with the Sereno Group 1% For Good Charitable Foundation. In partnership with both the Los Altos Community Foundation and the Community Foundation Santa Cruz County, the company is now connected with like-minded philanthropic communities and positioned to expand its impact through local charitable organizations changing lives in Silicon Valley and Santa Cruz County.
The formation of the Foundation shines a light on the core values and company vision which have always been focused on nurturing workplace culture and devoting resources to build community. The company mission has become more important than ever as the Bay Area's explosive growth continues to stress and strain the social fabric of local communities.
Sereno Group has always placed top priority on engaging with and giving back to the communities they serve.
About Sereno Group
Founded in 2006, Sereno Group is the largest independent and locally-owned residential real estate company with nine offices and 390 agents in Silicon Valley and the Santa Cruz Coast. The company offers a highly curated support platform and provides agents with high-level concierge services to strengthen client relationships, as well as world-class technology for well-executed transactions. Sereno Group is particularly proud of its agent-driven 1% For Good, an initiative that is changing lives in the local communities they serve, and to date, generated over $2.5 million in charitable donations.
Sereno Group is leading the way in real estate.
Local leadership | Local ownership | Local community impact