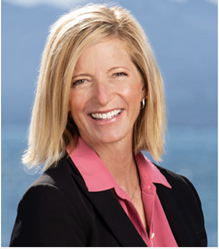 "As a long time resident and broker in the Tahoe area, I believe Sereno Group is a company that aligns with our local values and vision of strong leadership, environmental, and community stewardship." Linda Granger
LOS GATOS, Calif. (PRWEB) September 08, 2020
With the rapidly changing brokerage landscape and increase in mergers and consolidations by national and venture-backed brands, Sereno Group, the San Francisco Bay Area's largest independent real estate brokerage, announced today that the Granger Group in Lake Tahoe has joined the organization as part of its growing unification of true independents. Having this exceptional team of experienced agents join Sereno Group furthers the company's vision to unite independent brokerages and expand its footprint. Sereno Group is committed to ensuring that quality real estate agents remain in a position to provide the best service to their clients.
One of the many unexpected outcomes of the pandemic and shelter-in-place order has been a substantial reshuffling of homeowners' geographic preferences. Secondary markets have become increasingly primary and Lake Tahoe has fast become a desirable area for Bay Area homeowners looking to relocate their primary residence. Partnering with the Granger Group is a natural progression for Sereno Group.
"Certain geographic markets have been historically complementary to each other. Perhaps, none more than Silicon Valley/San Francisco's Bay Area and Lake Tahoe," said Sereno Group's CEO and Founder, Chris Trapani. "The 2020 pandemic has increased our focus and drive to provide dynamic real estate services, in expanding key markets and in order to best serve clients with the agents that know each local community best."
Linda Granger and The Granger Group have become synonymous with Lake Tahoe real estate. Both Granger and Sereno Group have recognized their philosophical alignment for years but destiny has now brought these two fiercely independents together as one.
About Sereno Group
Founded in 2006, Sereno Group is, with the recent acquisition of J. Rockcliff, the largest independent and locally-owned residential real estate company with thirteen offices and 550 agents in Silicon Valley, Santa Cruz Coast, the East Bay, and Lake Tahoe producing nearly $5 Billion in annual sales volume. The company offers a highly curated support platform and provides agents with concierge services to strengthen client relationships, as well as world-class technology for well-executed transactions. The company is particularly proud of its agent-driven Sereno Group 1% For Good Charitable Foundation, an initiative that is changing lives in our local communities, and to date, generated over $3.2 million in charitable donations.