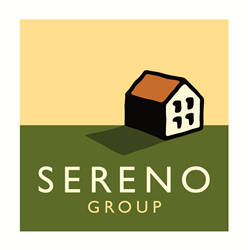 "Our priority from the beginning was to discover how to leverage our business for the greatest good and I continue to be humbled and inspired by the benevolence of our group." Chris Trapani, CEO + Founder, Sereno Group
MONTE SERENO, Calif. (PRWEB) November 21, 2020
Sereno Group is pleased to announce that the company has risen to #21 (up from #26 last year) in the Silicon Valley Business Journal's Top Corporate Philanthropists. Social impact has always been a part of the company mission and the Sereno Group 1% For Good Charitable Foundation is an extension of the belief that businesses have a responsibility to contribute to the people and communities where they operate.
Sereno Group's recent partnerships with both the Community Foundation Santa Cruz and Los Altos Community Foundation has increased its community impact and ability to network with other nonprofit organizations.
The company's contributions to organizations during the fiscal year 2019 totaled $844k and benefitted Mountains 2 Sea, Downtown Streets Team, Santa Cruz Museum of Art & History, Monterey Bay Trout & Salmon Project, Santa Cruz Animal Shelter Foundation - Extra Mile, Vista Center for the Blind & visually Impaired, Felton Library Friends O'Neill Sea Odyssey, Mariano Castro Elementary School, New Creation Home Ministries, Hope's Corner, Magical Bridge Foundation, Child Advocates of Silicon Valley, Destination Home, Hearts & Minds Activity Center, Parisi House on the Hill, Build-A-Box, Gilroy Foundation - Gilroy Garlic Festival Victim Relief Fund, Jewish Federation of Silicon Valley, LaRaza Lawyers SCC Charitable Foundation, Los Gatos & Monte Sereno Disaster Aid Response Team, Stroke Awareness, Canopy, Bay Area Cancer Connection, The Beat Within, East Palo Alto Kids Foundation, Cristo Rey High School, Renaissance Entrepreneur Center, Homework Central, Support Saratoga Elementary Teachers, Family Supportive Housing, Saratoga Senior Center, Shop With a Cop, Veggielution, National Alliance on Mental Illness Santa Clara County, and Elevate Tutoring.
The largest grant made in 2019 was $30,000 to the Los Gatos Monte Sereno Disaster Aid Response Team which helped to replace their command center trailer which is vital for local disasters like the recent catastrophic wildfires that devastated local communities.
Since 2012, this agent-driven initiative has been able to contribute to 248 philanthropic organizations throughout Silicon Valley and the Santa Cruz coastal communities and donate over $3.4 million.
About Sereno Group
Founded in 2006, Sereno is the largest independent and locally-owned residential real estate company in the Bay Area with 14 offices and 550 agents in Silicon Valley, Santa Cruz Coast, the East Bay, and Lake Tahoe, producing nearly $5 Billion in annual sales volume. The company offers a highly curated support platform and provides agents with high-level concierge services to strengthen client relationships, as well as world-class technology for well-executed transactions. The company is particularly proud of its agent-driven Sereno Group 1% for Good Charitable Foundation, an initiative that is changing lives in our local communities, and to date, generated over $3.4 million in charitable donations.