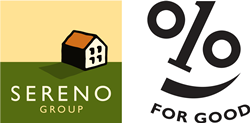 "It is an honor to be a part of such an esteemed group of companies that are collectively working towards the betterment of our communities." Chris Trapani
Los Gatos, CA (PRWEB) November 19, 2019
Sereno Group is pleased to announce that the company has risen to #26 (up from #29 last year) in the Silicon Valley Business Journal's Top Corporate Philanthropists. Diane Schmitz, committee lead for the Los Altos office, accepted the award at the recent commemoration event. The company is honored to be part of this civic minded group that includes The Sobrato Organization, the San Francisco 49ers, eBay and NetApp.
This past year, Sereno Group formed partnerships with both the Community Foundation Santa Cruz and Los Altos Community Foundation to increase its impact and ability to network with other nonprofit organizations.
The company also took part in launching the Habitat For Humanity Bridge Housing Community Project with a collaborative grant from our Los Gatos, Saratoga and Willow Glen offices of $50,000. The project will provide 40 Emergency Sleeping Cabins (ESC's) for transitional housing and HomeFirst will be onsite providing support services to help individuals transition to long term housing. This project is a unique collaboration between the Nonprofit, Private and Public Sector.
Since 2012, Sereno Group's agent driven 1% For Good initiative has been able to contribute to 193 philanthropic organizations throughout Silicon Valley and the Santa Cruz coastal communities.
About Sereno Group
Founded in 2006, Sereno Group is the largest independent and locally owned residential real estate company with nine offices and 360 agents in Silicon Valley and the Santa Cruz Coast. The company offers a highly curated support platform and provide agents with high-level concierge services to strengthen client relationships, as well as world-class technology for well-executed transactions. Sereno Group is particularly proud of its agent-driven 1% for Good, an initiative that is changing lives in our local communities, and to date, generated over $2.6 million in charitable donations.