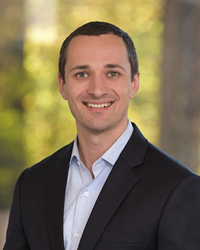 "I am proud to be a Partner in a firm that stands for integrity and provides excellent solutions."
SAN JOSE, Calif. (PRWEB) March 02, 2020
Strategy Law, LLP today announced that Serge Filatov has been named a Partner of the firm, effective immediately. Serge has been an attorney at Strategy Law since its inception and is an important part of the firm. In his new role, Serge will continue working with businesses and lenders on commercial transactions, secured debt and real estate financings, and on business formations. Serge has proven ability to safely bring his clients' transactions to the goal line, and looks forward to expanding on this vision.
"I am proud to be named a Partner in a firm that stands for integrity and provides excellent client solutions," said Serge. "Strategy Law has been an integral part of my life and legal career. I'm excited to take on this new role and look forward to continue providing a high level of legal services to our clients."
Speaking on behalf of the Partnership, Jack Easterbrook had this to say: "Serge is fabulous and definitely deserves becoming a Partner at Strategy! He has proven numerous times that he has the skill and experience to be a leader in his practice area and help grow the firm".
Serge's practice involves addressing the legal needs of businesses, lenders, and real estate investors. He assists business clients during their entire life cycle from formation to sale and helps form entities, document corporate agreements including shareholder agreements, operating agreements, partnership agreements, and purchase agreements, and drafts, reviews, and negotiates business contracts. Serge also works with lenders and borrowers in complex loan transactions, including commercial, technology and real estate loan documentation.
About Strategy Law, LLP
Strategy Law, LLP is a business and real estate law firm located in Downtown San Jose with clients throughout the Bay Area, the State of California and internationally. The firm's practice focuses on advising clients about, negotiating, documenting and addressing issues arising in business and entity formations, business transactions, limited liability companies and partnerships, mergers and acquisitions, banking and lender-borrower transactions, problem loans and insolvency, real estate transactions, technology transfer, e-commerce and, company side employment matters.
For more information about Strategy Law, LLP, please go to http://www.strategylaw.com.